Doctor Strange in The Multiverse o Madness - The Loop
Play Sound
Kirk Evelyn Van Houten is the father of Milhouse, and former ex-husband as well as cousin[1] of Luann. He is also the paternal grandfather of Zia Simpson.
Early Life and Marriage
Kirk served in the U.S. Army[2] and graduated from Gudger College[3]. He worked at his father-in-law's cracker factory, 'Southern Cracker', in middle management, but when Luann left him, he was fired from the factory. According to Luann, Kirk was not a very good provider, and she had to borrow money from her sister or steal clothes from the church donation box. He is of Dutch and Danish descent, but favors the former.[4] He bickers with his brother Norbert Van Houten, Milhouse's uncle, about the latter's Danish heritage.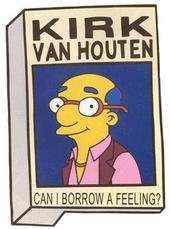 Kirk After Divorce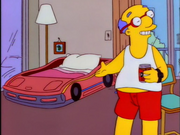 After the divorce, Kirk was a stereotypical, middle-aged male loser and deadbeat dad, suffering depression after his divorce from Luann.[5] He has been seen with one girlfriend since - Starla Starbeam, a chain smoking alcoholic who stole his car. Luann got custody of Milhouse when they divorced, but Kirk had visitation rights. Much to his displeasure, Milhouse often addressed him as "Weekend Dad". At one point, during the Saint Patrick's Day Parade, due to a drunken Apu Nahasapeemapetilon's urging for all the attendees to "get naked", he attempted to strip down, citing that the party was just "getting started." However, he wasn't able to do more than take his shirt off before being alerted to Bart Simpson's drunken nature in the parade's most infamous moment.[6] Kirk suffers from the need to cry all the time after his divorce, even in good times. He once cut his foot off to try to get Luann back.[7] After being fired from the Cracker Factory, he struggled to hold down a job. He was once employed as an assistant to the guy who puts fliers under people's windshield wipers.[8] Once, he was implied to have been fired from an unspecified job as a result of his arm being amputated and presumably sewn back on as a result of a failed attempt by the criminal Snake Jailbird trying to decapitate Homer in order to get his car back due to being seen in the unemployment office with his arm in a sling.[9] Kirk also had a job standing on the curb holding a sign directing people to a condo development and worked as a scarecrow protecting a soy-bean crop, which resulted in his eye being gouged by a crow. Since being fired from the cracker company, Kirk seems to be unable to maintain a steady job. He attended Leavelle's Bodyguard Academy and he was also was a singer who sold his tapes from the trunk of his car. His song was titled "Can I Borrow A Feeling" and the album featured a picture of Kirk on the front in a robe, which he was using in an attempt to be a smoking jacket. He was also unemployed at some point, surviving on alimony payments and unemployment benefits. In the episode "Days of Wine and D'oh'ses", Kirk is present at Barney's A.A. meeting. The episode was aired after Kirk and Luann divorced, suggesting that Kirk became an alcoholic after the divorce.
Arrest
He was once arrested for kidnapping. When Bart goes to a concert his parents banned him from, he hides at Kirk's apartment which leads to his arrest. Despite liking the attraction from the ladies outside the prison, he is released when Principal Skinner, Lisa and Alcatraaz find out Bart was lying.
Trivia
He once had his right arm cut off by the wire that Snake Jailbird was using to decapitate Homer.[10]
He looks like a male Luann and some people wonder if they are related. However, in "Lemon of Troy", Luann reminds Kirk she was from Shelbyville, Springfield's bitter rival, which could mean one of two things:

Kirk was born in Springfield and married his Shelbyville counterpart. Shelbyville is a kind of bizarro Springfield in which alternate versions of Springfield residents exist. In "Lemon of Troy", Milhouse met his Shelbyville counterpart, almost identical except the other does not wear glasses.
Kirk and Luann are cousins who were both born in Shelbyville and married each other, probably explaining why their son Milhouse is so messed up. This follows Shelbyville custom, as the town was founded by early dissenting Springfielders who wanted to inbreed. Milhouse also says in "Let's Go Fly a Coot" that his parents were cousins and he turned out "fine" (air-quoted by his lizard tongue immediately after saying it), making this more likely.

In "Little Orphan Millie" where Kirk and Luann planned to remarry, Bart constantly asked if they were actually siblings, explicitly mentioning their resemblance to one another.

Despite their remarriage, Kirk and Luann apparently still feuded to some extent, as Luann once locked him outside the house in the snow, and threatened Milhouse with taking away the latter's presents if he let Kirk in as he told Bart when the latter was making last requests in the event that he got caught by Sideshow Bob.[12]

In "Let's Go Fly a Coot", Milhouse tells Bart that both of his parents are indeed cousins.
in "Kamp Krustier", it's shown that both Milhouse and Kirk has a bad habit of sucking their thumb which Luann disgusts.
Kirk is 5 feet 10 inches (178 cm) and weighs 190 pounds (86 kg).[13]
Kirk apparently carries around a change purse based on his description of Luann's "bedtime stories" to Milhouse during their public spat that led to their divorce.

He apparently was also not fond of kids singing, based on his remark to Luann after Marge, in a desperate attempt to divert attention from the above, had Lisa come in to sing You're a Grand Old Flag.
Appearances
Gallery
Citations