Wiki Targeted (Entertainment)
Play Sound
Trivia
Richard Dean Anderson is a huge fan of The Simpsons, often referencing them in the television show Stargate SG-1 in which he played the part of Brigadier General Jack O'Neill. Anderson also played the titular role of MacGyver which is the favorite television show of Patty and Selma.

In the Stargate: SG-1 episode "Citizen Joe", Dan Castellaneta, the voice of Homer Simpson and many other characters in The Simpsons, guest starred as the titular character.

Ling Bouvier, the adopted Chinese daughter of Selma who premiered in "Goo Goo Gai Pan", made her second appearance in the series in a brief scene where Patty and Selma open the door to the room containing MacGyver to reveal him missing. (Ling was being held by Selma during the scene.)
Dan Castellaneta, the voice of Homer, wrote this episode along with his wife, Deb Lacusta. This is the fourth episode he has written, along with "Days of Wine and D'oh'ses", "Gump Roast" and "The Ziff Who Came to Dinner".
Anderson has never publicly badmouthed his MacGyver persona, although some actors have, in their later years, shown contempt for the roles of their youth. William Conrad, for example, once referred to his role in Cannon as "crap" in a People interview.
This is not the first time Homer has been to India, he first went to India with Apu to get his job at the Kwik-E-Mart back in "Homer and Apu".
Anderson says in the show that he wears blue contact lens to hide his Latino heritage, which is untrue as Anderson doesn't have any Latino heritage.
When Richard Dean Anderson showed up at Patty and Selma's convention and said he was looking for the convention for his "new" show Stargate SG-1, Stargate SG-1 was first aired in the 1990's but this episode aired in 2006, one year before Stargate SG1's cancellation.
Cultural references
The title is a reference to the film Kiss Kiss, Bang Bang. When this episode was named, Kiss Kiss...Bang Bang hadn't been released to theaters yet. "Mr. Kiss-Kiss, Bang-Bang" was also the name given to James Bond in Japan, as well as being a nickname dubbed by an Italian journalist in 1962. The title was later recorded as a song by Dionne Warwick, intended to be included in the Bond film, Thunderball (1965), but was omitted from the final cut in favor of Tom Jones' "Thunderball".
Homer pretends a cardboard cutout of Mac Tonight is a thermostat repairman and also leaves it to look after the kids.
Burns mentions being served dinner in a "scooped-out monkey's head", a reference to Indiana Jones and the Temple of Doom. Another reference to Indiana Jones and the Temple of Doom is made when Homer is arrogant enough to think of himself as a god, his outfit resembles that of Mola Ram.
Homer refers to Brahma, a Hindu god as "Papa Smurf", Ganesh as "The Elephant Man" and Shiva as "Johnny Sixarms".
The boat ride at this episode's climax parodies Apocalypse Now, itself based on Heart of Darkness.
The song that plays as the Simpsons sail through India is "The End" by The Doors, which was also used in the film Apocalypse Now. It was previously used in Hello Gutter, Hello Fadder when Homer contemplates suicide.
The scenery (especially the orange sky), boat itself and camera angles are all used in Apocalypse Now, also Homer thinking himself a god parodies Marlon Brando's character in Apocalypse Now, Colonel Kurtz.
The song that plays at the end of the episode is Pal Bhar Ke Liye by Kishore Kumar, a famous Bollywood playback singer from the 1970s. The song is from the Bollywood movie Johnny Mera Naam starring Dev Anand and Hema Malini. Simpsons creator Matt Groening is said to be a fan of Bollywood movies.
The conversation about choosing a door which may contain a tiger references the short story The Lady or the Tiger, in which a young man must choose a door, knowing it will either house a beautiful lady who is NOT the woman he fell in love with, or a man-eating tiger.
When Richard Dean Anderson stated "It was just a paycheck" It is reminiscent of the Saturday Night Live skit where William Shatner told fans at a Star Trek convention to "get a life" and "it was just a TV show."
"MacGyver lives! And not just at 2 am on the USA Channel!": In the late 80s - before they started making original TV movies and shows such as Duckman, Weird Science, and more recently Monk - USA was known for buying reruns of shows such as MacGyver, Murder She Wrote, and Miami Vice and filling their schedule by running them practically 24 hours a day.
"Outsourcing, take me away!": Reference to a famous 70s/80s commercial for Calgon bath soap in which a woman releases all the worries of her day as she relaxes in a bath while saying "Calgon, take me away!"
Goofs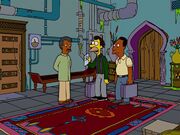 Before the movie plays, Lenny is sitting in the far back row. When Burns announces that the plant is being outsourced, he is a few rows down and surrounded by several workers.
When Lenny and Carl arrive in India, Carl is wearing a white polo shirt. Later, when he opens the tiger door, he is wearing his regular clothing.
Also, Carl is wearing a white shirt and tie at the start of the movie and wearing his regular attire when the workers fight for the bouquet.
The Taj Mahal is not in Bangalore.
The river that runs behind the Taj Mahal is the Yamuna, not the Ganges.
The man Lenny and Carl talk to changes after they finish complaining about coming.