References
Trivia
Sign on the Kwik-E-Mart microwave: "People with pacemakers should stay away from this thing."
Number of Slide Carousels Patty and Selma bring from their trip to the Yucatán: Eight.
Krusty's prison number in this episode is A113. A113 is an Easter egg that graduates of CalArts, such as Brad Bird, put in their films and cartoons; such as this one, all the Pixar movies, two other Simpsons episodes (Cape Feare and Sideshow Bob's Last Gleaming), and other films and cartoons.

Coincidentally Kelsey Grammar who plays Bob in this episode, voiced Stinky Pete in the 1999 Pixar film Toy Story 2.

This is Kelsey Grammar's debut as the voice of Sideshow Bob.
This is also the episode that began Bob's rivalry with Bart.
Bob's large feet also reveal his identity in The Bob Next Door, released 20 years later.
Bob's large feet also foil his plans in Funeral for a Fiend.
This is the first episode to have Krusty's name somewhere in the title.
This it also the first episode to focus on a supporting character rather than a Simpson family member (It focuses on Krusty the Clown).
This is the first appearance of Kent Brockman.
This is also the first appearance of Judge Snyder although at this stage in the series he is known as Judge Moulton (as mentioned in Bart Gets Hit By a Car) and has a Caucasian appearance and a higher voice.
This is only one of two episodes on the Season 1 boxset to end with the original 20th Century Fox Television logo that was used on the first three seasons of the show. The only other episode to have it is "There's No Disgrace Like Home". Every other episode has the 20th Television logo.
According to Lisa, the events of the episode take place in the year, 1990 in the sixth-season episode, "Sideshow Bob Roberts", despite being produced in 1989, the same year as the other episodes being produced for the first season.
This is the second and last episode to show Chief Wiggum with brown skin and black hair (the first being "The Telltale Head") although he is later shown with black hair again in several episodes from season 3. (Also, a flashback of the end of this episode featuring him with Krusty and Bart was shown in "Like Father, Like Clown".)
There are a few things that foreshadowed Krusty was indeed framed, like his pacemaker.
After gathering up all the Krusty merchandise in the house, Marge does not appear again for the remainder of the episode.
Goofs
When Apu says "You can emerge now from my chips. The opportunity to prove yourself a hero is long gone. ", his left arm is missing.
Homer tells the police that the criminal that he saw had big red hair, even though Krusty's hair is green. He may have simply been misremembering or misspeaking. Or the criminal's true identity was accidentally revealed.

Sideshow Bob refers to The Death of a Titan as Chapter 35 of The Man in the Iron Mask, when in reality it is chapter 50. He could have been reading an abridged edition.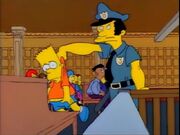 When Chief Wiggum orders the police to arrest Sideshow Bob (after being accused for framing Krusty), his skin is white until after Krusty is released from prison, when he and the police apologize for the misunderstanding.
Krusty says that he is illiterate but in later episodes, he is shown reading out stuff. He could have learned how to read to some degree between this point in time and then, or he may have been lying about his illiteracy all along.
The Kwik-E-Mart's door opens before Krusty (who's really Sideshow Bob in disguise) steps on the sensor.
Sideshow Bob gives the Simpson kids three tickets to his show. Maggie should be too young to need a ticket.
Technically, the trial should have been thrown out when it was discovered that Krusty had been illiterate, since the security footage showed Krusty reading near a magazine rack, in direct contradiction to Krusty's illiterate status. Springfieldians are not known for being smart.
Community content is available under
CC-BY-SA
unless otherwise noted.