"I like to play with you."
―Bart's first Krusty doll played until the battery ran out.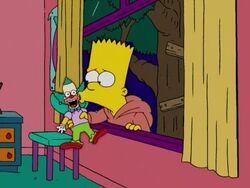 A Krusty doll is a toy doll that looks like Krusty the Clown and is part of the merchandise that Krusty endorses and sells. It comes in many different versions. A lot of versions have talk boxes, some have pull strings or switches, and some work by squeezing the stomach.
Versions
Catch-A-Rising Krusty [1]
Tickle-Me-Krusty-He talks by squeezing his stomach.
His sayings are:
#1 I'm anatomically correct. Go ahead, take a peek.
#2 I wonder what mommy's medicine takes like.[2]
#3 Hey, kid, get your finger out of there.[3]
Knife Krusty doll- Knife blade under removable head.[4]
Killer Krusty doll- a sentient doll featured in "Treehouse of Horror III".
Gallery
Appearances
Citations
Community content is available under
CC-BY-SA
unless otherwise noted.