LGBT Characters in The Simpsons
A number of people have been identified as (or implied to be) lesbian, gay, bisexual or transgender (commonly abbreviated LGBT).
So far, no characters have been described as asexual or demisexual.
Kang and Kodos are both gender ambiguous. While Kang is usually shown as male (although he may be a hermaphrodite), Kodos' gender is uncertain: Kodos has a male voice and is called male in "E.T. Go Home", yet is also called "sister" and wears female clothing in Tapped Out. However, Kamala is explicitly shown as female. It could also be possible that Kodos was referred to as "sister" for comic purposes.
Lesbians
Openly Lesbian
Patty Bouvier - Almost married Veronica.[1] However, Veronica was actually a man named Leslie, so the wedding was called off. However, Patty has been shown with men, i.e. Principal Skinner, although this was before she was established as homosexual. In Treehouse of Horror III, she says "there goes the last lingering thread of my heterosexuality" after seeing Homer naked, but this is a non-canon episode and could simply be given the line for comic effect.
Hinted to be Lesbian
Gay
Openly Gay Characters
In the Closet
Hinted to be Homosexual
Bisexual
Lady Gaga - She is openly bisexual in real life (which is hinted in the hit single "Poker Face") and even kisses Marge Simpson in Lisa Goes Gaga, much to Marge's surprise. However, Marge is straight as far as we know.
Verity Heathbar - Leaves her husband Charles for Patty, who says that they were brought together by their hatred of Homer.[13]Patty has never had a confirmed marriage yet, however.
Hinted to be Bisexual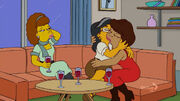 Bart shown holding a queer focus magazine
Transgender
Hinted to be Transgender
See also
Citations
Community content is available under
CC-BY-SA
unless otherwise noted.