LGBT Characters in The Simpsons
A number of people have been identified as (or implied to be) lesbian, gay, bisexual or transgender (commonly abbreviated LGBT).
Lesbians
Patty Bouvier - Almost married Veronica.[1] However, Veronica was actually a man named Leslie, so the wedding was called off. However, Patty has been shown with men, i.e. Principal Skinner, although this was before she was established as homosexual. In Treehouse of Horror III, she says "there goes the last lingering thread of my heterosexuality" after seeing Homer naked, but this is a non-canon episode.
Hinted to be Lesbian
Gay
Openly gay characters
In the closet
Hinted to be Homosexual
Bisexual
Lady Gaga - She is openly bisexual in real life (which is hinted in the hit single "Poker Face") and even kisses Marge Simpson in Lisa Goes Gaga, much to Marge's surprise. However, Marge is straight as far as we know.
Rainier Wolfcastle - Openly bisexual since he has his early gay porn films located within his bedroom.
Verity Heathbar - Leaves her husband Charles for Patty, who says that they were brought together by their hatred of Homer.[13]Patty has never had a confirmed marriage yet, however.
Hinted to be Bisexual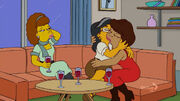 The first, the second and the third of The Cool Moms - They all are married and have sons, but when Marge abandons the club, they start kissing and hugging each other.[30]
Shauna - She is implied to be bisexual as Dolph said that she invited 200 guys and 7 girls to make out with her via a SpringFace message. 
Sideshow Bob - In "The Italian Bob," he admits to "experimenting in college."
Lenny Leonard - Despite having a girlfriend,[31] he is hinted to be attracted to Carl.
Carl Carlson - Despite having a wife,[32] he is hinted to be attracted to Lenny.
Hans Moleman - He sadly states that "nobody's gay for Moleman". However, he once dated Selma, so whether or not he is secretly gay or bisexual is up for debate.
Moe Szyslak - He wanted to marry Gil Gunderson and pretend that he's a girl in "Pray Anything".
Edna Krabappel - while she has dated many men, in The Ned-liest Catch, it is revealed she dated Patty Bouvier once.
Transgender
Judge Constance Harm - Indicates that she was born male.[33]
Brunella Pommelhorst - She said she would come back to Springfield Elementary as a man, but then decided to not go through with the surgery and is still a woman.
Stanlerina - She is Helen Lovejoy's cousin who was born male, but transitioned into female at some point in her life.
Hinted to be Transgender
See also
Citations