LGBT Characters in The Simpsons
A number of people have been identified as (or implied to be) lesbian, gay, bisexual or transgender (commonly abbreviated LGBT).
Lesbians
Patty Bouvier - Almost married Veronica.[1] However, Veronica was actually a man, so the wedding was called off. However, Patty has been shown with men, i.e. Principal Skinner, although this was before she was established as homosexual.
Hinted to be Lesbian
Gay
Openly gay characters
In the closet
Hinted to be Homosexual
Bisexual
Hinted to be Bisexual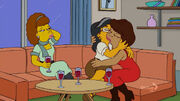 Transgender
Hinted to be Transgender
See also
Citations