The Lamborgotti Fasterossa is an Italian sports car produced by the Lamborgotti company.
Mr. Burns ordered a Lamborgotti Fasterossa (specifically the XT550 with the ABS Sport-Tec package) and gave Homer the task of picking it up from the factory, driving it to a port, and having it shipped to Springfield. Homer managed to wreck the car twice: once by hitting a wheel of cheese that fell into the road, and once by driving into some Roman ruins (and likely remained there) as the Simpsons were able to get back to the States thanks to Krusty.
The color of Mr. Burns' Lamborgotti is Rosso (red). Its features include leather seats, radio, and an onboard computer with telephone and SatNav capabilities.
Krusty the Clown drives a convertible version of the Lamborgotti Fasterossa.
In the episode To Surveil With Love, McBain is seen with in the Simpson back yard drag racing with Snake in another Fasterossa.
Behind the laughter
The Lamborgotti Fasterossa is based on the Lamborghini Gallardo.
Unlike a real Gallardo, this car has a decent-sized rear seat.
The company name, Lamborgotti, is a portmanteau of Lamborghini (an Italian car manufacturer) and Bugatti (a French car manufacturer).
Fasterossa is from the Ferrari Testarossa (a car manufactured by Ferrari, another Italian car manufacturer).
See also
Appearances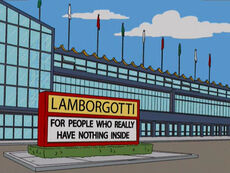 Community content is available under
CC-BY-SA
unless otherwise noted.