Trivia
A framed picture of Bleeding Gums Murphy can be seen in Lisa's bedroom.
FOX aired this episode earlier than the rest of the season as it was used to promote the debut of That '70s Show. It is also one of the few episodes to air in August.
Nelson is seen talking to his friends about huckleberries. He previously expressed interest in picking huckleberries in "This Little Wiggy".
An article from The New York Times from 2012 highlighted this episode about grease theft from restaurants.
Cultural References
Goofs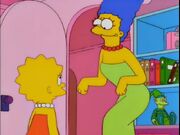 When Marge is dancing, her eyes are briefly so low down that they cover almost the entirety of her nose.
Despite being the first day of school, a calendar in the back of Ms. Hoover's classroom says March. Ms. Hoover is lazy and does not care much for being a teacher. Her neglecting to change the calendar is not out of character. However, at the grease collecting plant, the calendar shown in the background also says March.
Acne Grease Co is a reference to the Acme Co. from the Loony Toons that makes Everthing.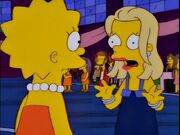 There appear to be four of the same faced squeaky voiced teens at Krusty Burger.
When Alex is complaining to Lisa about the students' childishness, Sherri and Terri are bright yellow instead of pale yellow.
Jimbo, Kearney, and Dolph are missing at the school. Given their characters, it's plausible that they were either suspended or skipping school, or that they just were not interested in the dance or the particular events of the episode.
In some FXX reruns, from the part when Lisa says "Enjoy the dance" to Willie shrieking seeing Bart and Homer, the talking and sound effects are out of sync.
Community content is available under
CC-BY-SA
unless otherwise noted.