Jurassic World: Dominion Dominates Fandom Wikis - The Loop
Play Sound
Larry is one of the two barflies usually seen at Moe's Tavern, along with Sam. Virtually nothing is known about them. Larry has a balding head, and he is 42 years old, just like Sam.
Character Traits
Larry is referred to as the ear bender. Larry is talked about being stupid, glum and weird. He rarely speaks. He is one of the people in Moe's Tavern who ogles Marge Simpson and asks "Who's the chick?" in "Bart Gets Hit by a Car". Larry is the tallest of the barflies; he has little black streaks of hair and wears a red jacket. In episode "The Bob Next Door", he ends up in prison along with Krusty the Clown and Kirk Van Houten for an unknown reason. During "Some Enchanted Evening", Moe Szyslak refers to him as a pig, among Homer and Barney. In "Radioactive Man", after a flashback sequence explaining why Moe failed at becoming a movie star, the patrons can be heard commenting indistinctly and at the end, in one rare, speaking role, Larry can be heard saying "that makes sense". Another time, in "El Viaje Misterioso de Nuestro Jomer (The Mysterious Voyage of Homer)", when Homer enters Moe's Tavern in search of a soul mate, the other patrons there give one word answers of what they are to him in lieu of soul mates. In Larry's instance, he responds, "Colleague."
Larry is mainly seen in the background at Moe's Tavern usually drinking beer. He rarely speaks, only speaking sometimes in a few episodes. He is one of the barflies along with Sam the barfly. He also mainly has a very dumb and drunk look about him. He is usually also in the back corner of the bar with Sam drinking beer as well.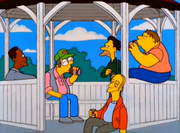 Trivia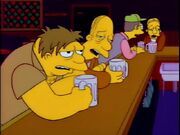 Appearances
Gallery