Wiki Targeted (Entertainment)
Play Sound
Cultural References
A sign on the closed-down Sears reads "GO TO HELL JEFF BEZOS", a reference to the CEO of Amazon.
The song Homer and Ned listen to is an edited version of "I Love Rock n' Roll" by Joann Jett and the Blackhearts.
This is the first time that Ned has had a job at Springfield Elementary in nearly 25 years.[1]
Goofs
Ned Flanders' HR blackboard spells 'harassment' with two Rs, 'harrassment'

The second airing corrected the spelling.

Homer drops hundreds of plutonium rods (which are falling behind his neck every week as seen in the Opening Sequence) but Homer always throws the plutonium rod on his way home during the opening.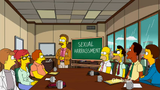 Trivia
In the scene where Ned Flanders says Grace you can notice that Lisa is the only one who doesn't pray, This is a reference to her faith in Buddhism.
↑

Sweet Seymour Skinner's Baadasssss Song