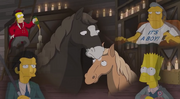 Let Them Play is a song from the episode "What to Expect When Bart's Expecting" sung by Homer, Bart, Fat Tony and Louie. It is a parody of the song "One Day More" from the musical Les Misérables . The music was written by Alf Clausen and the lyrics by John Frink.
Lyrics
Homer:
Let them play.
We won't look, we'll turn away.
Go make love, then eat some hay.
Bart:
We'll be dead.
Shot through the head.
Homer:
Be that as it may, Fat Tony's horse is gay.
Fat Tony:
I do not hear no banging.
No sound of horse shoes clanging.
Homer:
Roll in hay.
Bart:
Or tomorrow we will pay!
Homer:
I don't care about tomorrow!
We need true horse love today!
Here's a blanket they can borrow.
Let them rock the night away.
Louie:
I don't really mind at all, but why must I go mop the stall?
Homer and Bart:
Roll in hay!
Roll in hay!
Roll in hay!
Fat Tony:
Hay!
Louie:
Hay!
Community content is available under
CC-BY-SA
unless otherwise noted.