References
This episode's title and plot is a parody on the saying: "Like father, like son."
Movie references
The episode parodies the 1927 film The Jazz Singer, which was a watershed film as it was the first movie to be featured with sound. In the movie, a rabbi's son goes against his family's attempt to become a rabbi, choosing instead to pursue a career as a jazz singer. This is referenced when a young Rabbi Krustofsky remarks "If this was a musician or a jazz singer I could understand, but a clown, no!"
The scenes of Krusty calling up his father then staring into space parody Robert De Niro in Raging Bull, who had an estranged father whom he would randomly call without having the confidence to speak any words, leaving the father to perplexedly say "Hello, hello?"
Trivia
The episode is considered as a sequel to "Krusty Gets Busted" and footage from that episode is used in this episode. 
Goofs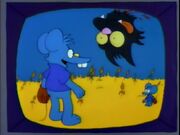 After Krusty starts crying at the dinner table, Homer asks if he will finish his meatloaf, but there is no meatloaf on his plate.
In this episode, Itchy's jacket is blue instead of its usual orange.
When sitting at home, after trying to call and talk to his father, Krusty is shown without makeup despite the fact that it was implied in Homer's Triple Bypass that Krusty's bypass surgery that gave him a pacemaker permanently bleached his skin white and implied in Marge vs. the Monorail that Krusty's white skin is genetic (the short scene of a woman begging Krusty to see his son).
Community content is available under
CC-BY-SA
unless otherwise noted.