This article is about the episode. For Lisa's actual pony, see here.
"First you didn't want me to get the pony. Now you want me to take it back. Make up your mind!"
Lisa's Pony is the eighth episode of Season 3.
Synopsis
Homer makes up for his latest example of fatherly ineptitude (failing to get Lisa a saxophone reed in time for the school talent show) by purchasing Lisa the one thing she has always wanted: a pony. However, the pony proves to be more expensive than first thought, so Homer takes a second job at the Kwik-E-Mart to keep Lisa happy.
Full Story
Lisa requires a new reed for her saxophone because there is a talent show that evening. After calling Marge, Flanders, Reverend Lovejoy, Patty and Selma and "the nice man who caught the snake in our basement", she finally calls Homer at work, asking him to get her one. Homer agrees, and arrives at the music shop five minutes before closing time. Moe's is right next door, and Homer goes in there first, thinking he has plenty of time for a beer beforehand. He walks out with 15 seconds to spare, but is too late, as the shop is closed. Dejected, he goes back to Moe's and finds the shop owner is in there enjoying a drink. Moe helps Homer convince the man to reopen his store. Homer, who barely remembers what he is supposed to pick up for Lisa, purchases the reed and heads for the school. Unfortunately he is (again) too late: Homer arrives just in time to hear Lisa humiliate herself by butchering the song that she chose to play.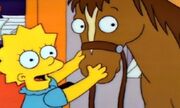 Homer tries to give the favor back to Lisa, but all his attempts meet with rejection. After looking through previous home videos, Homer discovers just how much Lisa hates him and feels guilty for ignoring her own daughter's needs and achievements due to being preoccupied with watching TV and dealing with Bart's shenanigans over the years. In bed, Marge suggests that Lisa just needs time and she will forgive him. However, Homer decides that a 'quick fix' is needed, and plans to get her a pony. Marge tries to be reasonable and warns him not to buy the pony as they can't afford it. Homer ignores her warning and explains that doing girly stuff with Lisa made him a laughingstock with the neighbors, thanks to the shenanigans of Bart and Milhouse. He agrees to purchase a pony, despite Marge's opposition.
To afford the pony, he applies for a loan through the Power Plant Credit Union. Mr. Burns personally reviews the loan, and approves it only after determining that Homer does not intend to eat the pony and has no knowledge of the "state's stringent usury laws." Homer buys the pony (named Princess) for Lisa, and, after waking up to find it lying next to her, she gallops into her parents' bedroom happily telling Homer she loves him. While he is happy that Lisa is no longer angry with him, Homer faces an enraged Marge and she berates him for making such an extravagant purchase even after she warned him not to because they can't afford it. Bart is also angry because he felt left out and demands Homer buys him a moped. He refuses, pointing out that Bart will get nothing from him. Homer soon learns the hard way as the pony can only be boarded at the place he bought it, with charges coming to more than $500 per month. Combined with the typical household expenses, Marge warns that the family is headed for serious financial trouble.
In order to cover all costs, Apu hires Homer to work the graveyard shift at the Kwik-E-Mart. Working back-to-back at both jobs, Homer becomes like a walking zombie, and his alertness is greatly decreased when he falls asleep at the wheel. Marge becomes increasing worried for Homer's health, and it hits a breaking point when he collapses in the garage. When the kids see this, Marge reveals that the pony was expensive and how this has been a toll on Homer's well-being and their father has been working two jobs to pay for the pony. However, Marge also is not going to demand Lisa give up the pony; she needs to make this decision herself. After seeing firsthand Bart taking advantage of a sleep-deprived Homer, Lisa sadly elects to have the pony sold back to the stables. Lisa tells Homer that there's a "big dumb animal" she loves even more than her horse, that being Homer himself. Homer happily quits his job, much to Apu's dismay and admits that he was one of his better workers despite his crude nature and sleeping on the job.
Citations