Trivia
This is one of the only two episodes in which the guest star uses a pseudonym instead of their real name (the other being Michael Jackson in "Stark Raving Dad"). Following the legal troubles surrounding "Stark Raving Dad", the producers stated henceforce no pseudonyms would be allowed. As a result, all voice actors must use their true names in the credits of The Simpsons.
Dustin Hoffman's pseudonym 'Sam Etic' was chosen as reference to his character being Jewish or "Semitic".
The scene where Edna Krabappel is hitting on Mr. Bergstrom is a direct reference to the film The Graduate in which Dustin Hoffman stared in.
Near the end of the episode, when Homer checks on Maggie, she cries a bit for her pacifier. Nancy Cartwright was asked to play Maggie and she accepted the role, but she spotted her husband (who's now divorced) and her daughter (who was an infant at the time) walk into the recording studio. She asked one of the directors if her baby could do Maggie's cry, and the director accepted. Because of this, Nancy Cartwright's baby daughter actually did Maggie's cry here.
This episode marks the full first appearance of Ralph Wiggum (Before this, he made a short cameo at the beginning of the show's Christmas pilot, as well as an appearance in "Moaning Lisa" as the Yellow Kid. He also made a few background appearances in "Bart the General" and "Homer vs. Lisa and the 8th Commandment").
Lisa makes a reference to that there weren't many Jewish cowboys, in which Mr. Bergstrom says that there were actually a few. However, in actual history of the Old West, there was a multiracial makeup of cowboys and settlers, with there being cowboys of black, Mexican, and Indian heritage, as well as cowboys who were recent immigrants from places such as Russia, Germany, and France.
The book that Mr. Bergstrom was reading to the class was Charlotte's Web.
During the montage of Bart, there is a blonde girl that looks the same as Lisa, but the only difference is that her hair is curly.
During Martin's celebration after clinching the class president election, he is photographed holding up a newspaper that reads "SIMPSON DEFEATS PRINCE". This is an obvious reference to a notorious printing error by the Chicago Tribune that read "DEWEY DEFEATS TRUMAN" in regards to the 1948 presidential election between incumbent Harry Truman and challenger Thomas Dewey. The headline was printed in advance due to telephone polls overwhelmingly favoring Dewey. Following Truman's election, a photograph of him was taken jovially displaying the erroneous headline which has become the iconic image associated with the 1948 election.
This is the first episode that has Maggie communicate other than her pacifier, gestures and facial expressions (in this case, crying). This is also the first episode in which Maggie cries.
First episode to use the short opening sequence.
Martin will resign as student body president in The President Wore Pearls.
Goofs
Lisa's classroom is shown to be on the first floor of Springfield Elementary School at the beginning of the episode. Later it is shown to be on the second floor.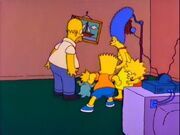 According to Bart's narration of his "kittens" video he shows his class to, Snowball II was a kitten that the Snowball I had. But in "Simpsons Roasting on an Open Fire", it's clearly stated that Snowball II was bought after Snowball I went to heaven when she got ran over.
Near the end of the episode, when Homer is talking to Lisa, he says he never lost anyone special, when he actually did lose someone special- his mom.
In the couch gag, Marge's dress is colored yellow.
Homer called baboons "the stupidest, ugliest, smelliest ape of them all", though baboons are actually monkeys. However, he corrects this later. Due to Homer's general stupidity, a goof like this isn't out of character.
Community content is available under
CC-BY-SA
unless otherwise noted.