Doctor Strange in The Multiverse o Madness - The Loop
Play Sound

"Lisa Goes Gaga" is the twenty-second and final episode of Season 23, and the 508th episode overall.
It is known by many fans and critics as one of the most infamous Simpsons episodes.
Synopsis
Lisa tries to reverse her status as the least popular student in school by ghostwriting positive things (naming herself truthteller) about herself on the school blog. When her plan backfires, her social ranking plummets to a new low – until Lady Gaga (guest-starring as herself) arrives.[1]
Full Story
On her way to a concert, Lady Gaga passes through Springfield and sees how low the town's self-esteem is. One of the residents who account for the low self-esteem is Lisa, who finds out that her fellow students voted her the most unpopular student. She attempts to become popular by ghostwriting nice things about herself on a school blog titled "Truth Teller."
Bart, however, gets word of this and tells the entire school, and this makes Lisa's social status drop even further. Lady Gaga is alerted via a psychic force about Lisa's depression, and goes to help her.
After many attempts to make Lisa happy, Lisa snaps at Lady Gaga, who then feels that she failed her mission. Lisa soon discovers that her outburst helped her in not bottling up her anger, and runs to find Lady Gaga. When she finds her, Lisa apologizes and Lady Gaga is relieved to find out that her mission was successful. The two then sing a duet, then Lady Gaga leaves, but not before Moe arrives and asks if she can help him out, but she turns him down.
Behind the Laughter
Production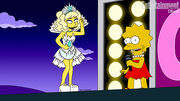 During August 2011, it was revealed that Lady Gaga would star as herself in an upcoming episode.[2][3][4] Gaga's recording sessions took place on August 22-26th in Los Angeles. Entertainment Weekly interviewed Gaga, expressing that her appearance was "a little nerve wracking" and that she "[doesn't] do voice-overs every day of the week". "Their characters are so awesomely convincing and sincere and wild and funny, [that] I had to remind myself constantly of the sincerity of the humor. That's what I was trying to focus on, not putting on a character too much and really being as sincere as I could with the lines."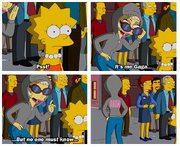 Despite these initial emotions, Gaga exclaimed that working with the staff of the show was "one of the coolest things that [she] has ever done".[5] The show producers were impressed with Gaga's ad-libbing skills and her voice-acting range. Matt Groening was also interviewed by the Entertainment Weekly, he stated that "since the very beginning, I've always wanted to have on the most iconic personalities of our time, and she's it". Also, Yeardley Smith was interviewed by Broadway.com, and stated that she "was stunned that she has time in her schedule that she's coming to our studio to record."[6]
Reception
This episode is claimed to be one of the most hated episodes by fans because it has a plot relying too much on Lady Gaga, instead of having an actual plot, as well as a lack of humor. IMDb rates this episode 3.9/10, making it the first Simpsons episode in the first thirty seasons to score less than a 5/10.[7] Other reasons for the episode's controversy is due to the depiction of Lisa's character, which critics have pointed out as an awful representation of her strong independent role in the franchise, and instead makes her look like one of Gaga's rigid fan-sheep.
The episode was harshly panned from both fans and critics with a huge mountain of negative reviews as of the plot, moral, and characterization being criticized by fans of the show and some fans of Lady Gaga, although her performance itself was praised.
External links
Citations