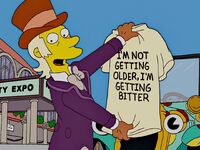 A list of Bart's t-shirt phrases from Fat Man and Little Boy.
Phrases
Adults Suck, Then You Are One
Life Ends at Ten
Wake Me When It's Recess
I've Puked More Beer Than You've Drunk
I ♥ ♥ Attacks
Do not resuscitate
Think Globally, Fart Locally
My Other T-shirt is Also a Joke T-shirt
Weapon of Ass Destruction
Top of the Dude chain
Wish You Were Beer
Stop World Hunger, Eat My Shorts!
Sucking Sucks
Everything Sucks
America's least wanted
Bored in the USA
Pobody's Sherfect Nithead
Impeach Everybody
Get Bent
Proud Nubian Princess
I'm Not Fat, I'm Enormous
This Shirt Sucks
Don't Blame Me I Voted For Scooby-Doo
Stop Staring At My Man Boobs
Jews For Jebus
Body By Oreo
If You Can Read This The Backpack Fell Off
I'm Not Getting Older, I'm Getting Bitter
Don't Wake Me I'm Working
Rich Bitch
See also
Community content is available under
CC-BY-SA
unless otherwise noted.