Doctor Strange in The Multiverse o Madness - The Loop
Play Sound
"Lisa, I'll do the dishes when I pick it out of the chore hat and it's not a practice..... See, there it is! But that was a practice. The system works!"
"Little Big Mom" is the tenth episode of Season 11. It is also the first episode made in the 2000s. Elwood Edwards guest stars as the Virtual Doctor.
Synopsis
After suffering an accident at a local ski lodge, Marge relinquishes control of the household to the next-most responsible member of the family, Lisa.
Full Story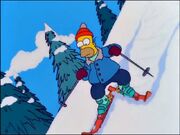 Marge cleans out the attic, looking for items to give away or sell. Homer and the kids refuse to let her do it. This prompts Marge to look at all the junk she is trying to get rid of, including old game boxes (minus the games) and other useless or broken things the family never use but won't part with. She shows Homer several skis he never used since buying them after the Nagano Olympics. To spite Marge, he says he is going to use them, which makes the family go on a skiing trip. When they are there, Marge decides that she wants to avoid skiing or snowboarding, for fear of injury. However, while she is staying in the ski lodge, a loose-hanging clock falls off the wall, breaking her right leg. Marge is transported to the hospital, where Dr. Hibbert declares that she must stay there until her cast is removed.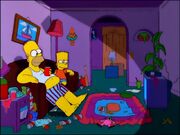 In the meantime, Lisa offers to take her place, making a structured plan for Homer and Bart to do the chores, which Lisa chooses through a chore hat. Unfortunately, Homer and Bart refuse to do any chores, and when Lisa finally prods them into doing some work, they do so in an extremely apathetic and ineffective manner, such as leaving dishes in the sink for days on end. Marge is enjoying her time in the hospital, because a doctor is giving Marge an acupressure. The lazy lifestyles of Homer and Bart have taken their toll on the house, which is now a disorganized, filthy hovel with trash everywhere, with Lisa struggling to make ends meet. She even calls Marge and asks if she can return - Marge, who enjoys the lifestyle of lying all day in bed not working, lies to Lisa saying she is still too ill to come back. Lisa, angered, abandoned and desperate for answers, meets the ghost of Lucille Ball, who has an idea to get revenge. She suggests that she pull a clever trick on Homer and Bart while they are asleep. Indeed she does, and using green poster paint and oatmeal on the men, she tricks them into thinking that they have leprosy.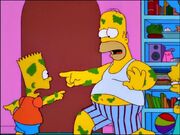 The next morning, Homer and Bart are told by Lisa they have leprosy from living in dirty conditions, therefore they need to clean up the house. Homer and Bart consider this supposed cure worse than the disease, so they go see the Flanders family instead, thinking Ned can give them a quick and easy cure. Ned is terrified, and sends the two of them to a leper colony in Hawaii, where they will be needled and sanded.
Once Marge's cast has finally come off (and her excess leg hair has been waxed), she comes home to see an angry Lisa finally done with cleaning the entire house. They decide to seek out Homer and Bart in Hawaii. When they arrive, Lisa apologizes and admits that she only played a trick on Homer and Bart. Only to discover that Homer and Bart already learned the leprosy was fake because Homer ate one of the sores and that they plan on continuing faking the disease in order to stay there for free and that they are willing to withstand two hours of blind pain a day from the electric needle treatment. The episode ends with the family sitting on the beach watching the sunset while Homer is screaming in pain in the background while also shouting "aloha" in between his screams.
Broadcast History
United States
Broadcast date(s)
Channel aired

January 9, 2000
April 16, 2000
September 24, 2000
Behind the Laughter
Production
The episode was written by Carolyn Omine (this is the first episode written by Omine) and directed by Mark Kirkland. The episode features several references to the late American actress Lucille Ball and her many television sitcoms starring characters named Lucy. For example, it is the ghost of Ball that gives Lisa the idea to trick Homer and Bart into thinking they have leprosy. Ball is portrayed with a cigarette in her hand in that scene, and speaks with a raspy voice. When Lisa first sees the ghost, she cries out "Lucy?," to which Ball responds "Lucy McGillicuddy Ricardo Carmichael. [Coughs] And I think there's some more." According to Michael Karol, author of the 2004 book Lucy A to Z, the last names "are those of Ball's characters from I Love Lucy and The Lucy Show. Left out were Lucy Carter of Here's Lucy and Lucy Barker of Life with Lucy." The Simpsons cast member Tress MacNeille provided the voice of Ball in the episode. Additional references to Ball's work featured in "Little Big Mom" include Homer and Bart watching I Love Lucy with the volume turned up high, disturbing Lisa when she is trying to sleep. An Itchy & Scratchy cartoon that references the "Job Switching" episode of I Love Lucy is also seen in the episode.
Notes
Because the episode deals with leprosy, it has never been released in Japan, making this the 2nd episode to be banned in the country. (The previous one is "Thirty Minutes Over Tokyo").
This is the first Simpsons episode to be released in 2000, and is also the first Simpsons episode to be released in the 21st century.
Citations