Ludacris is a rapper hailing from Atlanta. He played the role of Luda-Crest in the controversial hygienic educational film Menace Tooth Society. At some point, he learned that dentists at Springfield were using his work without permission and stormed the office and slammed a dentist against the wall, as the film was supposed to be issued one time only, in Canada. He then told them to wait for a statement from his office. It was during this time that Lisa witnessed and pointed him out to her father, Homer (although when she first pointed him out, she said it right after Homer made a compliment, making it seem as though she was insulting his beliefs).
He later passed by Bart, and was seen carrying a gun (implying that he was going to shoot the dentist for the unauthorized airing of the film).
Appearances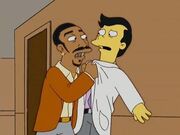 Community content is available under
CC-BY-SA
unless otherwise noted.