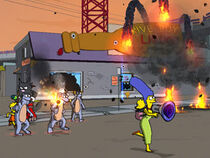 Marge's Megaphone is Marge's power in The Simpsons Game. She gets the power in the level "Mob Rules".
Marge can use a megaphone to order people to do whatever she wants. She has to speak through her megaphone to recruit people into her mob.
At the beginning, she can order her mob to destroy things, build things, step on platforms, and attack enemies. Later, she gets an improvement from Professor Frink, the "mega-megaphone", which will make the Blowback (Hold O/B then release) more powerful.
From the level "NeverQuest", she can order her mob to fix things. In the Xbox 360 and PS3 versions of the game, Marge can pick up a police cap to turn into "Police Marge" and allow the mob to throw rocks.
Appearances
Community content is available under
CC-BY-SA
unless otherwise noted.