Margerine is a song by Homer's band Sadgasm, based on his relationship to Marge in the episode That '90s Show.
It was featured on the album "Desolation Hatchback".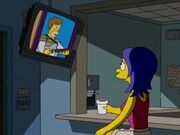 Lyrics
Homer:
Spread yellow gunk on my pancake heart,
Country churned girl in my grocery cart.
I paid for her dreams, she taught me to cry.
Like watery knives, like rain from my eyes.
I can't believe you're not mine!
I can't believe you're not mine!
Margerine. Margerine. Margerine.
Margerine. Margerine.
MARGERINE! MARGERINE! MARGERINE!
Trivia and references
Grandpa Simpson is featured in the music video for 'Margerine'.
The music video for 'Margerine' contains several references to other music videos.

The video features Homer preforming the song to contestants and the host on a game show that parodies Jeopardy!, a reference to the music video for the Metallica song Hero of the Day.
Homer is later seen performing in front of crash-test dummies on gym bleachers, which is probably a reference to Smells Like Teen Spirit by Nirvana. Homer is also dressed similarly to how Kurt Cobain was in this music video, and he plays a similar guitar to Cobain's.
Grandpa Simpson is seen as a game show contestant in this video, wearing an adult diaper. This may reference the video for Nirvana's Heart Shaped Box, which features an elderly male wearing a diaper-like garment.

This is one of five original Simpsons songs to not have music by regular composer Alf Clausen. Instead the music is written by Clay Duncan and the lyrics by Matt Selman.
Appearances
See Also
Community content is available under
CC-BY-SA
unless otherwise noted.