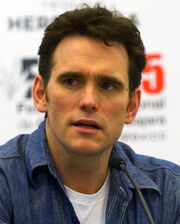 Matt Dillon (born February 18, 1964) is an American actor and film director. He made his feature film debut in Over the Edge (1979) and established himself as a teen idol by starring in the films My Bodyguard (1980), Little Darlings (1980), Tex (1982), Rumble Fish (1983) The Outsiders (1983) and The Flamingo Kid (1984). From the late 1980s onward, Dillon achieved further success, starring in Drugstore Cowboy (1989), Singles (1992), The Saint of Fort Washington (1993), To Die For (1995), Beautiful Girls (1996), In & Out (1997), There's Something About Mary (1998), and Wild Things (1998). In a 1991 article, famed movie critic Roger Ebert referred to him as the best actor within his age group, along with Sean Penn.
In the 2000s, he made his directing debut with City of Ghosts (2002) and went on to star in the films Factotum (2005), You, Me and Dupree (2006), Nothing but the Truth (2008), Sunlight Jr. (2013) and Going in Style (2017). For Crash (2004), he won an Independent Spirit Award and was nominated for a Golden Globe Award and the Academy Award for Best Supporting Actor. He had earlier been nominated for the Grammy Award for Best Spoken Word Album for narrating Jack Kerouac's On the Road. Since 2015, he has starred in the FOX television series Wayward Pines, for which he was nominated for a Saturn Award in 2016.
In The Simpsons he does the voice of Louie (Midnight Towboy).
Community content is available under
CC-BY-SA
unless otherwise noted.