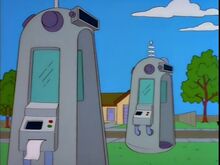 The Matter Transporter is a machine which Professor Frink sold at his yard sale for a starting price of two dollars, though Homer Simpson ended up buying it for 35 cents. It can bring matter from one location to another. Homer used it to make life more convenient for him, such as teleporting between floors instead of climbing the stairs or reaching the refrigerator from the couch. However, Bart entered the machine with a fly, causing their DNA to mix and leading to two mutant fly-human hybrids.
Appearances
Community content is available under
CC-BY-SA
unless otherwise noted.