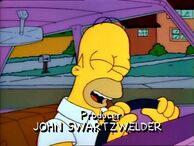 Meet the Flinststones is the theme song from the primetime animated television show of the 1960s, The Flintstones. Homer parodies the song in the episode "Marge vs. the Monorail".
Lyrics
Homer:
Yabba-dabba-doo!
Simpson,
Homer Simpson,
He's the greatest guy in history.
From the
Town of Springfield,
He's about to hit a chestnut tree.
AAAAAHHH!
(crashes into a chestnut tree)