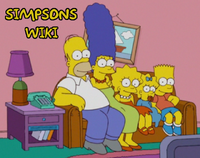 Hello, BDE1982, and welcome to Simpsons Wiki!

Thank you for your edits to The Boy Who Knew Too Much and taking interest in our wiki. If you have any troubles, feel free to ask questions on my talk page or any other any experienced editors' talk page. Also, you could look at a help page.
Here are a few pages to help out new editors such as yourself:
Policies - Please read these so you know what is and is not allowed on this wiki.

Please sign your name on talk pages by using four tildes (~~~~). This will automatically produce your name and the date. Signing your comments is important, as it lets other editors know who has posted which comments. Again, welcome!
Appolgies
Edit
I am the author of Ike Pross. Also I made the mistake you fixed. Unfourtanitly I can not figure out how to make a chart and tried to do the writing infront of the actual page that makes the chart but screwed up. Sorry, p.s. sorry about the spelling of author I do not remembered if it is spelled with an e or o. I also appolgies for the spelling of Unfourtanitly I am sure it is wrong. (A bully user (talk) 21:49, October 22, 2012 (UTC))
Candidate For Deletion
Edit
http://simpsons.wikia.com/wiki/Station_Wagon
This article serves little purpose and isn't specific with when it appears. Erm, so anyway... just my opinion on that article. Mother Fudger! (talk) 20:08, December 4, 2012 (UTC)
Leaderboard
Edit
Hey buddy! Congrats on getting 10,000 arcade points!! MrBadgerLol 21:15, February 12, 2013 (UTC)

Shoot, signiature messed up. MrBadgerLol 21:17, February 12, 2013 (UTC)
Fixing typos
Edit
If you want, you can just put "fixed typo" in the edit summary instead. It will save you some time. If anyone wants to see exactly which typo you fixed, they can check the differences between the two versions.
Re: 10,000
Edit
Cheers mate, I've been on Simpsons Wiki for about 2 years but I never thought I'd get to 10,000 arcade coins! Also, Marge is one of my favourite characters, I've been meaning to change that, but I've had lots of un-wiki related activities such as homework, GCSE revision etc... So yeah, I'll change that, thanks for telling me PS, well done, you, for being the first to get 10,000! I guess the race is on to get 20,000! XD MrBadgerLol 20:27, March 2, 2013 (UTC)
Which reminds me, on Fairly Odd Parents Wiki, there's a guy with 28,000 points! Ay Carumba! ♫Mr Badger Lol♫ 18:32, March 4, 2013 (UTC)
Thanks mate :) I s'pose DJ MC CJ is gaining on us quickly. But us 3 (and you) are all probably friends, so I really don't mind who gets 20,000 first. Getting that many points is an achievement in itself. If one of us (you included if you're still attempting to get it) gets the 20,000th point, I'm sure we'll all be proud for each other.
PS. I'm really flattered that you're rooting for me, but why me? (Please don't take that question harshly. It's just I rarely get people rooting for me. Even among my close friends) ♫Mr Badger Lol♫ 15:27, July 24, 2013 (UTC)
Simpson Theme For A Certain Product
Edit
Hi! Did you know that Lego is requesting to make a Simpson theme? Either that, or Simpsons are requesting to do a Lego theme...
Anywho, I read it on a newspaper website and I wanted to inform you, seeing as you're a Simpsons fan, too! ♫Mr Badger Lol♫ 17:15, March 13, 2013 (UTC)
Regarding a soundtrack song heard in the sixteenth season.
Edit
In "On a Clear Day, I Can't See My Sister", which version of The Police's "Dont Stand So Close to Me" was used in the soundtrack? Was it the original version from 1980 or the newly rearranged version from 1986? I have trouble remembering. -- User:RightFielder
Dude, please meet me on the chat:
http://simpsons.wikia.com/wiki/Special:Chat
I'm licensed to chill 00:22, May 28, 2013 (UTC)
On Marge on the food critics list.
Edit
Should we call her a food critic? As I recall she started a food "blog", can't define that word to well but it seems to be some kind of computer database. Is it an online place to do critiques and reviews and recomendations on places and events, and to criticize certain things such as food? Does that make her a critic?
Vilius2001
Edit
Hi Brandon Devers, this is a message.
If Vilius2001 keeps trolling you, you can report him on VSTF or you can request to be a admin.
Regards
JOEY310 (want a chat with me?) 16:46, November 27, 2013 (UTC)
Community content is available under
CC-BY-SA
unless otherwise noted.