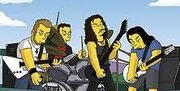 Metallica is an American heavy metal band formed in 1981. Its members consist of James Hetfield, Kirk Hammett, Lars Ulrich and Robert Trujillo. Some believe they helped pioneer (or even invented) the sub-genre of Thrash Metal. They have released numerous singles such as "Master of Puppets", "Enter Sandman", "One" and "Creeping Death". They were influenced by different rock bands, such as 70's hard rock acts like Black Sabbath and Budgie, NWOBHM acts like Diamond Head and hardcore punk bands like The Misfits and Discharge. Their latest studio release is 2016's Hardwired...To Self Destruct.
James and Lars were friends and got the idea of forming a band in 1981 (though James had played in other low-profile bands before, such as a Rush tribute band). Dave Mustaine (who would go on to form Megadeth following his dismissal from the band) was the original guitarist, before getting kicked out in 1983 for being a chronic drug abuser and violent alcoholic, being replaced by Kirk, who played in fellow San Francisco thrash metal band Exodus at that time.
The band's second bassist was Cliff Burton (succeeding Ron McGovney, who recorded a few demos with the band before their first official release) who was known for using heavy distortion on his instruments. In 1986, Cliff died as a resulted in a horrible tour bus accident in Sweden, during the tour to promote their then-recent album, Master of Puppets. Later, they recruited Jason Newsted (formerly from Flotsam and Jetsam) as the bassist for all subsequent recordings until 2002: ...And Justice For All, Metallica, Load, ReLoad, Garage, Inc. and S&M. Jason left before the start of the recording sessions on St. Anger to join Ozzy Osbourne's band in Ozzfest, and has since then become involved in a variety of projects, including a stint with Canadian industrial metal band Voivod. Robert Trujillo, a bassist who also played with Ozzy (as well as Suicidal Tendencies and its spin-off band Infectious Grooves), became the new bassist.
In "The Mook, the Chef, the Wife and Her Homer", Otto is taking the kids to school when he sees Metallica's tour bus broken down on the side of the road. Bart hijacks Otto's bus when Otto is talking to Metallica, and Metallica hitches a ride with Hans Moleman.
External links
Community content is available under
CC-BY-SA
unless otherwise noted.