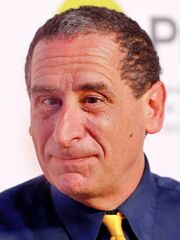 Michael Louis "Mike" Reiss (born September 15, 1959 in Bristol, Connecticut) is an American TV comedy writer. He, along with Al Jean, served as showrunner on The Simpsons in Season 3 and Season 4, writing ten episodes. In 1994, the duo created and executive produced The Critic after leaving The Simpsons. Reiss later returned to the show as a consultant and co-wrote The Simpsons Movie.
He attended Harvard University. Reiss previously collaborated with Jean as a writer for National Lampoon magazine, The Tonight Show with Johnny Carson and ALF.
Reiss independently produced a short internet cartoon series entitled Queer Duck for Icebox.com. In 2002, the series was picked up by Showtime, where it aired as a supporting feature to Queer as Folk. Queer Duck: the Movie was released on DVD July 18, 2006. The feature film reunites the Queer Duck cast, with guest stars Conan O'Brien, David Duchovny, Bruce Vilanch, Andy Dick and Tim Curry.
Other television shows Reiss has produced include It's Garry Shandling's Show, Teen Angel, The PJs, and The Oblongs.
He later co-wrote the films Horton Hears a Who! (2008) and Ice Age: Dawn of the Dinosaurs (2009) and wrote the screenplay for his original project My Life in Ruins (2009).
When he isn't writing for The Simpsons, he often speaks at colleges and community centers. In 2018, Reiss wrote Springfield Confidential: Jokes, Secrets, and Outright Lies from a Lifetime Writing for the Simpsons with Mathew Klickstein.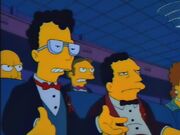 Credits
Writer (1990-1997, 2007)
Co-Producer (1989-1990)
Supervising Producer (1990-1991)
Co-Executive Producer (1991-1992)
Executive Producer (1992-1993, 1995, 1997-1998)
Season 3

Season 4

Season 5

Season 6

Season 8

Season 9
Consulting Producer (1993-1997)
Season 5

Season 6

Season 7

Season 8
Producer (2000-present)
Season 12

Season 13

Season 14

Season 15

Season 16

Season 17

Season 18

Season 19

Season 20
Lyrics (1997, 2007)
Season 8

– The Simpsons Movie (Lyrics for Spider-Pig (with James L. Brooks, Matt Groening, Al Jean, Ian Maxtone-Graham, George Meyer, David Mirkin, Mike Scully, Matt Selman, David Silverman, John Swartzwelder and Jon Vitti) and Springfield Anthem (with James L. Brooks, Matt Groening, Al Jean, Ian Maxtone-Graham, George Meyer, David Mirkin, Mike Scully, Matt Selman, John Swartzwelder and Jon Vitti))
Commentaries (2001-2013)
Citations
External links