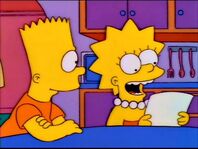 Minimum Wage Nanny is a song from the episode "Simpsoncalifragilisticexpiala(Annoyed Grunt)cious" sung by Lisa, Bart and Homer. It is a parody of the song "The Perfect Nanny" from the movie Mary Poppins. The music was written by Alf Clausen and the lyrics by Al Jean and Mike Reiss. It is the fifth track on the album Go Simpsonic with The Simpsons.
Lyrics
Lisa:
We have our own suggestions for the new nanny. Would you like to hear them?
Homer:
You have my undivided attention.
(Homer's brain says otherwise as it is playing a "Steamboat Willie" version of "Turkey in the Straw," which he hums along with.)
Well, I'd like to hear your suggestions.
Lisa:
(to Bart) Maestro, if you please.
(Bart presses the play button on a boombox, which starts playing a cheery tune.)
Lisa (cont'd):
If you wish to be our sitter,
Please be sweet and never bitter,
Help us with math and book reports.
Bart:
Might I add: "Eat my shorts".
Lisa:
Bart!
Bart:
Just cuttin' through the treacle.
Lisa:
If Maggie's fussy, don't avoid her.
Bart:
Let me get away with moider.
Lisa:
Teach us songs and magic tricks.
Homer:
Might I add: no fat chicks.
Marge:
Homer!
Lisa:
The nanny we want
Is kindly and sage.
Homer:
And one who will work
For minimum wage.
Lisa:
Hurry, nanny,
Things are grim.
I'll do it!
Bart and Lisa:
Anyone but him!