Wiki Targeted (Entertainment)
Play Sound
Cultural References
Trivia
This is the first episode in the series to have a subplot.
There is Glum toothpaste in the bathroom, another word for sad. Also, a possible parody of Gleem toothpaste.
Lisa's school band is practicing the song "My Country, 'Tis of Thee"; however, it should be noted that it is also "God Save the Queen", which is the British National Anthem.
Lisa finds Bleeding Gums Murphy on the same bridge Homer was going to jump off in order to commit suicide. She is later seen crying at the bridge after Murphy's death in "'Round Springfield".
Prank Call number 2: Bart calls Moe's Tavern and asks for Jacques, last name Strap. Moe's response: "When I find you I am going to gut you like a fish and drink your blood."
Moe's hair is now gray.
At the Noiseland Video Arcade, the games include Eat My Shorts, PAC-RAT II, Itchy vs. Scratchy, Escape from Grandma's House, and Robert Goulet Destroyer.
Despite first appearing in "Simpsons Roasting on an Open Fire", Snowball II appears in this episode and this episode aired two episodes before that episode originally. It's possible that this episode takes place after Simpsons Roasting on an Open Fire. The same thing happened in "The Telltale Head".
This episode is the first time Lisa cries.
It's more likely Marge unplugged the video game, but on the screen, it looks like a TV turning off.
This is the first episode to have Lisa's name somewhere in the title.
This episode's couch gag was also used in The Simpsons Arcade Game.
First episode to feature a flashback appearance of Marge as a child and the first flashback appearance of Jacqueline Bouvier.
First appearances of The Jazz Hole and Noiseland Video Arcade.
There is an internet Creepypasta that says that this episode code (7G06) was originally from another episode which is called "Dead Bart". There is no substance to the story, as Creepypastas are only internet urban legends designed to unnerve, disturb, elicit a negative emotional response from, and scare the reader. The supposed image of Bart dead is actually Homer's face melting from "Brother from the Same Planet". It also uses the imaginary coffin scene from the previous episode.
This is the first episode to feature Bleeding Gums Murphy.
This is also the first episode in the series that primarily focuses on Lisa.
Goofs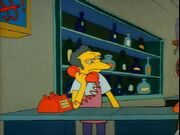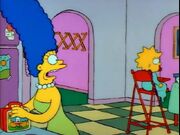 When Moe picks up the phone the bottom half of his body under the hatch doesn't match up with the top half, plus his apron is too short.
When Homer is looking for his keys, Marge's pearls are white.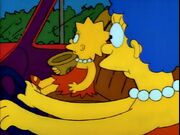 At one point when she's talking to Lisa in the car, her pearls are white again and her dress is red.