(48 intermediate revisions by 5 users not shown)
Line 1:
Line 1:
 
+

{{Tab|Ref}}

−

{{TabR

 
 
+

{{PrevNext|Ref|Goo Goo Gai Pan|The Seven-Beer Snitch}}

−

|episode=Mobile Homer

 
 
+
−

}}

 
 

== Trivia ==

 

== Trivia ==

 
+

*The title is a reference to a "Mobile Home" or an RV.

−

*[[Cowboy Bob]] and his [[Bob's RV Round-Up]], from "[[The Call of the Simpsons]]", return; however, Cowboy Bob was not voiced by [[Albert Brooks]] this time. Also returning is the Merry Widow Insurance Company from "[[Homer's Triple Bypass]]".

 
 
⚫

*In the Spanish (from Spain) dubbed version, when Lisa reads Homer's map, she says, "''Dino, abreviatura de dinosaurio; consultarlo en la '''Wikipedia'''''" (Dino, abbreviation of Dinosaur; search for it in Wikipedia). In the original English, she said "Dino, short for Dinosaur? Remember to Ask Jeeves"

−

*The first of two episodes this season to make a home-Homer pun.

 
 
⚫
⚫

*

In the Spanish (from Spain) dubbed version, when Lisa reads Homer's

Flinstones

map, she says, "''Dino, abreviatura de dinosaurio; consultarlo en la '''Wikipedia'''''" (Dino, abbreviation of Dinosaur; search for it in Wikipedia). In the original English, she said "Dino, short for Dinosaur? Remember to Ask Jeeves"

 
 
+
⚫
 
 
⚫
−

*This is the third time that Welcome to the jungle was on The Simpsons. First in [[Marge on the Lam]], second in [[Eight Misbehavin']]. Making it the most played song in pop culture on The Simpsons.

 
 
+

*This is the fourth time that the song ''Welcome To The Jungle'' is played on ''The Simpsons'', making it the most-played pop culture song on the show. It was first played in "[[Marge on the Lam]]"; the second time in "[[Eight Misbehavin']]" and the third time in "[[Skinner's Sense of Snow]]"

−

*Homer already owned an RV in [[The Call of the Simpsons]]

 
 
+

*Homer previously owned an RV in "[[The Call of the Simpsons]]. [[Cowboy Bob]] and his [[Bob's RV Round-Up]] also return. However, Cowboy Bob was not voiced by [[Albert Brooks]] in this episode instead he was voiced by [[Dan Castellaneta]]. Also [[Crappy RV]]/[[Homer's RV]] gets destroyed somehow. Also just like in the aforementioned episode Homer also bought himself a car that would get somehow destroyed in [[Miracle on Evergreen Terrace]] and [[Marge Simpson in: "Screaming Yellow Honkers"|Marge Simpson in: "Screaming Yellow Honkers]]".

 
+

*Homer previously locked himself out of a vehicle by accident and managed to enter it offscreen in "[[Marge vs. the Monorail]]".

 
+

*The last time Bart hit Homer with a chair occurred in "[[A Milhouse Divided]]".

 
+

*"[[Homer's Triple Bypass]]": [[Merry Widow Insurance Co.|The Merry Widow Insurance Company]] appears, Marge wants Homer to get insurance an Homer is uninsurable.

 
+

*[[Brake My Wife, Please]] - Someone drives a vehicle only to be (almost) about to land in an ocean.

 
+

*[[Saturdays of Thunder|Saturday of Thunder]] - Homer avoids something because of something only to show how lazy he is.

 
+
 
+

== Cultural references ==

 
⚫
 
⚫
 
+

*The voice of Thomas Jefferson is based on that of James Cagney.

 
+
 
+

== Goofs ==

 
+

[[File:Wrongturkey.jpg|thumb|The Turkish flag drawn incorrectly]]

 
+

*Actually, Kahramanmaraş hasn't got a coast line.

 
+

*The Turkish flag is wrong. The star is higher up than it's supposed to be, and the moon and star look slightly tilted when they aren't in real life.

 
+

*Lisa was wearing her dress, so she didn't actually need to use the charity clothes.

 
+

*At the end of the gas station scene, when the man says "there you have it" his wife chuckles but her mouth doesn't move.

 
 
 
+

{{Spacer}}

⚫
 
 
⚫
⚫
 
⚫
 
⚫
 
 

[[Category:Trivia]]

 

[[Category:Trivia]]

 

[[Category:Cultural references]]

 

[[Category:Cultural references]]
---
Revision as of 02:22, 2 April 2020
Trivia
The title is a reference to a "Mobile Home" or an RV.
In the Spanish (from Spain) dubbed version, when Lisa reads Homer's Flintstones map, she says, "Dino, abreviatura de dinosaurio; consultarlo en la Wikipedia" (Dino, abbreviation of Dinosaur; search for it in Wikipedia). In the original English, she said "Dino, short for Dinosaur? Remember to Ask Jeeves."
Among the vacation disasters: Homer impaled by a baguette in France, Homer getting assaulted by Mickey Mouse and Goofy at the Magic Kingdom, and Homer stuck in Lincoln's nose on Mount Rushmore.
Previous Episode References
Cultural references
Songs in this episode: Vacation by The Go-Gos, Welcome to the Jungle by Guns N' Roses, I've Been Everywhere by Johnny Cash (parodied), and Istanbul (Not Constantinople) by They Might Be Giants.
The spider poison is called "Charlotte's Dead," an obvious parody of the children's book Charlotte's Web.
The voice of Thomas Jefferson is based on that of James Cagney.
Goofs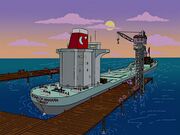 Actually, Kahramanmaraş hasn't got a coast line.
The Turkish flag is wrong. The star is higher up than it's supposed to be, and the moon and star look slightly tilted when they aren't in real life.
Lisa was wearing her dress, so she didn't actually need to use the charity clothes.
At the end of the gas station scene, when the man says "there you have it" his wife chuckles but her mouth doesn't move.
Community content is available under
CC-BY-SA
unless otherwise noted.