"Heh. Life don't seem so hard no more."
―Moe
"Moe Baby Blues" is the twenty second and final episode of Season 14.
Synopsis
Moe feels lonesome. While attempting to commit suicide, he unintentionally saves Maggie's life. Maggie then takes a liking to Moe and he enjoys the new sense of responsibility for her, but becomes too obsessed with satisfying her needs.
Full Story
Lisa leads the Simpsons to the Springfield Botanical Gardens, where the Sumatran Century Flower is about to bloom for the first time in 100 years. Moe, wondering where his regular customers are, discovers that most of the town has turned out for the botanical event. He closes his tavern and proceeds to uncomfortably join the throng. Unfortunately, the crowd size for the event has exceeded the garden's capacity by one person, and Chief Wiggum makes Moe leave. When the plant blooms, it releases a ghastly stench that makes the townspeople scramble for their lives, destroying the botanical gardens.
Moe walks away from the gardens, mistaking the townspeople's screams for cries of delight. While attempting to escape the plant's noxious fumes, the crowd causes a terrible traffic jam that bottlenecks at the Springfield Bridge. Thinking that the traffic has finally cleared, Homer floors the accelerator but then must suddenly slam on the brakes, in which the force causes Maggie's car seat restraints to snap. Maggie goes flying through the car's sunroof. Moe, planning to terminate his misery, is just about to jump off the bridge when Maggie lands in his arms. The crowd declares Moe a hero, and when Maggie gives her surprised rescuer a kiss, he suddenly realizes that life does not seem so bad to the surly bartender.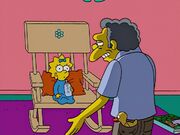 Moe shows up at the Simpson house, and when Homer leaves for work and Marge ends up having to chase a naked Grampa, Moe is left to keep an eye on Maggie. Maggie is instantly attached to Moe, and they have a good time. Marge returns and Moe asks if he can babysit Maggie, and she agrees. After a while, Marge is happy that she has had plenty of time to get tasks done, but Homer feels left out of Maggie's life and worries because she is his last chance to be a good father. Later, Moe tells Maggie the story of The Godfather. When he gets to the part where Don Corleone plays with his grandson, Moe demonstrates how the Don scares him by sticking a cut-up orange in his mouth, and Maggie enjoys it. Furthermore, he explains the entire baptism sequence to her, including the ever-popular death scene of Moe Greene, who was shot clean through the eye. Moe uses a teddy bear and points at the bear's eye to portray that Greene was shot in the eye. He later goes on to tell her the sequel. When it comes to Maggie's birthday party, Moe annoys everyone with his behavior and his gift to Maggie: a doll house-sized rendition of his bar, featuring "Classic Drunk Barney" and "Drunk Talking Homer." Marge and Homer later learn that Moe has installed his own baby-monitoring system in Maggie's room and they proclaim that they have been overwhelmed.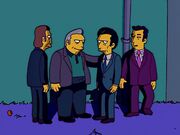 Moe reverts to being depressed, to the point of Moe imagining the barflies as Maggie. One night, the family is asleep, and Maggie wakes up and hears the mafia, consisting Fat Tony, Louie, Legs, and Johnny Tightlips, outside the house, plotting to kill the Castellaneta family. When Louie feels hesitant, Fat Tony does the Godfather-orange routine to cheer him up, and Maggie recognizes it. She pursues the mobsters. When Homer and Marge find her missing, they automatically assume that Moe kidnapped her, and they track him down. They see Moe at his oven, and they think that Maggie is inside. (It turns out to really be a ham). When Moe is told that Maggie is missing, his request to help find her is granted by Homer. The group chooses to search the Simpson's house yard. They find the cut-up orange that was used by Fat Tony, and Moe believes that Maggie must have followed them.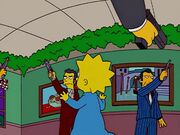 Maggie follows the mobsters to Luigi's, where Fat Tony's gang and the Castellanetas are having a meeting. Maggie enters the restaurant. The two criminal organizations draw their guns. Both groups of mobsters are aiming guns at each other, with the head of the Italian American Anti-Defamation League drawing guns at both sides, and Maggie is in the middle of the "Italian-American Mexican standoff." Homer, Marge and Moe are watching from outside, through the window. Moe decides to go inside and save Maggie. Moe goes inside, and to prevent himself and Maggie from being shot, tells the gangsters about Maggie's innocence and how it redeemed his life. Maggie stares at Fat Tony's gang, the president, and the Castellanetas, causing them to be moved by Maggie's innocence, and break down crying, and Moe and Maggie are good to go.
The family and Moe make up in the end, and Homer and Moe agree to have a "playdate": Homer spends quality time with Moe's ham, while Moe spends more time with Maggie. The episode finishes with more of "You're My Best Friend" by Queen and a picture montage of Homer with Moe's ham.
Reception
The episode has received positive reviews from critics. The A.V. Club writer Todd VanDerWerff, who holds the opinion that by the start of the 2000s The Simpsons had declined in quality compared to its earlier years, praised "Moe Baby Blues" for being as good as the better episodes of the series. In 2009 he wrote: "No matter how hard showrunner Al Jean tried to bring the show back to its roots after Mike Scully turned it into a cartoonish fantasy early in the decade, there was always something missing. The series, which had done everything, mostly lost its ability to surprise. Every so often, though, it came up with an episode like this one, offering a funny new way to use the characters."
VanDerWerff went on to say that "Moe becomes obsessed with caring for baby Maggie, in ways both hilarious and rooted in the characters we'd grown to know. 'Moe Baby Blues' added a new relationship to the show, and represented one of the few consistently funny episodes this decade."
In February 2012, "Moe Baby Blues" was listed by Matt Zoller Seitz of New York magazine as one of "Nine Latter-Day Simpsons Episodes That Match Up to the Early Classics". DVD Verdict's Victor Valdivia, on the other hand, commented that "even the best episodes [of season fourteen] don't quite rank with the best of the series' classic seasons, but that doesn't mean that they're not worth watching anyways," citing "Moe Baby Blues" as an example and adding that it "gives some much needed humanity to Moe, easily one of the series' most scabrous characters."
J. Stewart Burns was nominated for a Writers Guild of America Award in the animation category for his work on the episode, but lost to Matt Selman, the writer of the Simpsons episode "The Dad Who Knew Too Little".
The Simpsons cast member Hank Azaria won an Emmy Award in the "Outstanding Voice-Over Performance" category for his voice-acting work on "Moe Baby Blues". It was Azaria's third win in that category and his fourth Emmy Award overall.
Citations