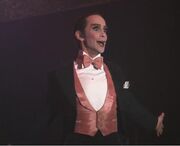 Moe Better Booze was a short film made by Moe Szyslak for the Springfield Film Festival.
Moe dances on top of his bar and sings the song "One More Round." He then falls off of his bar and yells, "Ow! My back!".
However, at the film festival, "Moe Better Booze" lost to another alcohol-related film; Barney Gumble's "Pukahontas".
Cultural References / Trivia
Moe Better Booze is a short parody of the musical film Cabaret.
Moe is dressed as Joel Grey was in the film.
The song "One More Round" has a passing resemblance to "Money, Money, Money" (specifically, the lyric "Money makes the world go 'round").
Appearances
Lyrics
Money gets you one more round
Drink it down, you stupid clown
Money gets you one more round, then you're out on your ass (Moe turns around to show his rear, falls backwards off the bar)
Woah! (thud) Ow! my back!
Community content is available under
CC-BY-SA
unless otherwise noted.