Trivia
This episode was dedicated to the memory of Johnny Carson, who died a week before this episode aired. Carson guest-starred in Krusty Gets Kancelled.
On the map in the aircraft, Springfield is shown in the middle of the ocean.
This episode actually has some of the most noises made by the rarely-speaking barflies Sam and Larry. They both unenthusiastically moan "Ugggh".
Homer calls himself "Jerkass Homer", a nod to what Simpsons fans called him during the Mike Scully Era in seasons 12-14.
Among the mourners seen alongside the regular barflies at the wake: Duffman, Dr. Nick, Kirk Van Houten, Surly Duff, Nelson and a Leprechaun.
Previous Episode References
Goofs
Itchy & Scratchy Land is shown to be within a few hours driving distance of Springfield. However, in Itchy & Scratchy Land, it is shown to be several thousand miles away. They may have opened a new Itchy & Scratchy Land.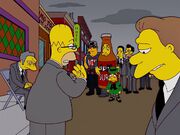 When Homer reads his MOE poem tribute, Carl Carlson can be seen yellow.
When Homer says his "mind is completely at ease", the collar of his everyday white shirt is showing; however, he is in pajamas for the duration of the scene.
On the plane, when the camera pans to Marge and Moe, Akira and the Sea Captain are sitting behind them. But when the camera is on Marge and Moe, they are nowhere to be seen. Then when the camera is above them, someone and Carl are behind them. After Homer's speeding scene, when the camera is on Marge and Moe, nobody is behind them, but when Moe closes the Airplane window, Akira and the Sea Captain are shown again. Then, when Moe declares his love for Marge, nobody is seen behind them again. When Homer comes out of the Toilet hole, Akira is seen behind Marge and Moe. This continues for a while.
After Bart blew the sausage in Lisa's mouth, he suddenly has shrimp on his plate, even though they weren't there before. Additionally, as it is revealed two seasons later in Please Homer, Don't Hammer 'Em, he is allergic to shrimp. It is possible that he became allergic after this episode.
Marge and Moe couldn't have been on the plane before Homer even got there, as you should arrive at the airport a minimum of two hours before the scheduled departure time for international flights. Also, if it was that close to departure when they left for the airport, Check-in would already be closed.
It is impossible to board a plane via anything other than a door.
Homer gained access to the apron, however passengers are only allowed on the apron when boarding their flight, meaning that he would have been arrested.

Also, as Homer didn't have a boarding pass, he wouldn't have even been able to get to security.

It is impossible to open a plane door in-flight.
The steps that Chief Wiggum was driving would not have been able to keep up with the plane.
Cultural References
The title is a play on the 1981 movie Mommie Dearest.
Over the end credits, Homer and Marge sing Captain & Tennille's song "Love Will Keep Us Together"; this was actually a deleted scene from Co-Dependent's Day. Homer is dressed in the same on-stage costume as Daryl Dragon, aka The Captain.
In the scene where Homer chases Moe and Marge's plane on the tarmac is a spoof on the Jim Carrey movie Liar, Liar.
The scene where there's a new computer-animated movie from DreamWorks, Cards, parodies many other computer-animated movies, specifically Disney/Pixar's Cars, in the way that DreamWorks seems to always use similar themes for their CGI films. The trailer also references the 1992 film A Few Good Men when a card says "You can't handle the two," a play on the popular phrase from the film, "You can't handle the truth."
When Homer makes a puck of his lips to kiss Marge, she goes away and Homer instead uses the puck of his lips to play the trombone where he plays Greensleeves.
Due to the closure of his bar, Moe tells his patrons to get their beer from a gay bar across the street, "The League of Extra-Horny Gentlemen" (a play on The League of Extraordinary Gentlemen) from which "Can't Get You out of My Head" by Kylie Minogue is playing. This is a reference to Minogue's status as a gay icon.
Chief Wiggum's stair car is a reference to the Bluth Company Stair car from Arrested Development.
Awards
This episode would win writer Michael Price the 2006 WGA Award for writing in animation. It marked the third year in a row a Simpsons episode won the award. It should be interesting to note that, even if this episode lost, The Simpsons still would have won because all six nominees in 2006 were Simpsons episodes (also nominated were There's Something About Marrying, The Girl Who Slept Too Little [which is actually a season 17 episode; it was originally supposed to be the last episode of season 16, but The Father, The Son, and the Holy Guest Star aired in its place after being temporarily delayed following Pope John Paul II's death], See Homer Run, Thank God It's Doomsday, and The Father, the Son and the Holy Guest Star). (See List of awards for more info.)
Community content is available under
CC-BY-SA
unless otherwise noted.