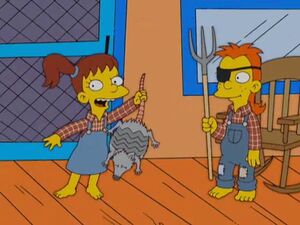 Moonshine Drinkers is a song sung by Cletus's children in the episode Yokel Chords. It is a parody of the song "Sixteen Going on Seventeen" from the musical The Sound of Music. The music was written by Alf Clausen and the lyrics by Michael Price. It is part of the thirty-seventh track on the album The Simpsons: Testify.
Lyrics
Kid #1:
I have eight teeth goin' on seven teeth.
Kid #2:
I have a curvy spine.
Kid #1:
We live on landfill...
Kid #2:
And feast on roadkill...
Kid #1:
While we all drink moonshine.
(whistling)
Community content is available under
CC-BY-SA
unless otherwise noted.