Mr. Plow is a plow truck that Homer bought. The vehicle is a bright red single cab small pickup truck that resembles a 1989 Ford Ranger. The vehicle's display shows that it was presumably fitted with a snow plow shovel, courtesy of Kumatsu motors. It served him well in clearing his neighbor's yards and earning money for his Mr. Plow company, and was useful during an avalanche that trapped Barney Gumble, who opened up his own business rival, Plow King. However, it was repossessed soon after all the snow melted.
Non Canon Appearances
Along with the Plow King, Mr. Plow is also a drivable vehicle in The Simpsons: Hit and Run. Bart, realizing that he can't actually fit Dr. Nick's medical monkeys into his own car, decides to find a much bigger vehicle, and decides to get Mr. Plow. He then asks Homer if he could borrow it, and Homer does, although under the condition of charging him for it.
Along with the Plow King, Mr. Plow is an unlockable vehicle in The Simpsons Road Rage. Instead of being in the category of Homer and the Family Sedan and The Car Built for Homer, Mr. Plow is in a separate slot because instead of the regular outfit, he wears his Mr. Plow jacket and hat.
In LEGO Dimensions, an unlockable skin for Homer's Car resembles Mr. Plow. The vehicle itself can be summoned using a Locate Keystone in the Back to the Future Level Pack in order to clear debris blocking a bonus area.
Appearances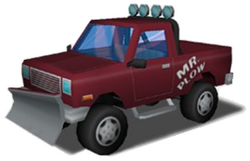 Gallery