Wiki Targeted (Entertainment)
Play Sound
Ms. Phipps is one of the school nurses at Springfield Elementary School along with Lunchlady Doris, who doubles as a nurse.
History
Ms. Phipps is quite jittery and nervous all the time. This may have something to do with her apparent paranoia about illnesses and germs. This is proven when she quickly jumps to the conclusion that Bart, after clearly faking illness, has amoria phlebitis. During the snow day, she played hockey with Principal Skinner, Edna Krabappel, Dr. J. Loren Pryor and Moe Szyslak.[1]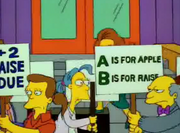 By the time of the teacher strike, she seems to have dyed her hair blue. This might have been an animation goof.[2]
Behind The Laughter
Ms. Phipps first appeared in 'Bart Gets an F', voiced by Jo Ann Harris. Throughout season 2 and 3 she made semi-regular non-speaking background appearances. Following her second speaking appearance in the Season 3 production episode Kamp Krusty, where she was voiced by Maggie Rosewell, the character was mostly abandoned.
In Season 6 and 7 she made two background appearances, and again in Season 12 to 13. She has likely been forgotten.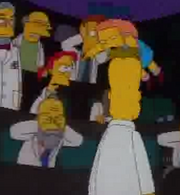 Appearances
Note: Many of her appearances are brief, background roles. Episodes in which she has an actual role are in bold.
Episode – "Kamp Krusty"
Episode – "Lisa's Sax" (In the auditorium)
Episode – "Bye Bye Nerdie" (At the science conference)
Episode – "Little Girl in the Big Ten" (On the street)
Comic story –

Thumb Wrasslin'!
Citations