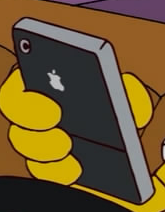 The
MyPhone
is a cell phone made by
Mapple
, and available for purchase in
Mapple stores
.
History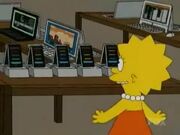 Lisa Simpson
saw MyPhones when the family was browsing in a Mapple store. During the same visit,
Bart
shocked the store customers by breaking into
Steve Mobbs
' announcement to make it sound like Mobbs was telling the MyPhone customers that he was ripping them off (by setting the phones' retail price at around $500 when they only cost eight dollars to make), and that he personally peed on every MyPhone made. Fortunately for the phone owners' peace of mind, Lisa exposed Bart's prank
[1]
.
Homer later bought a MyPhone for himself[2]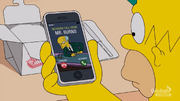 Behind the Laughter
The MyPhone is a parody of Apple's iPhone.
Appearances
Citations
Community content is available under
CC-BY-SA
unless otherwise noted.