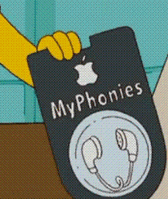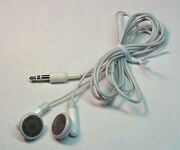 MyPhonies
are fake earbuds made by
Mapple
.
Lisa Simpson looked at the MyPhonies when she was browsing in a Mapple Store and realized she couldn't afford a MyPod. The store clerk suggested she get the MyPhonies so that people would at least think she had a MyPod. However, they cost $40, which Lisa also couldn't afford.
Behind the laughter
MyPhonies are a parody of Apple earphones.
Appearances
Community content is available under
CC-BY-SA
unless otherwise noted.