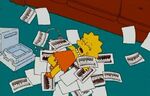 MyTunes is a service provided by Mapple.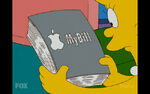 MyPod users can use MyTunes to download music and videos to their MyPods. MyTunes users are charged by means of sending them a monthly MyBill.
Lisa Simpson used MyTunes to download approximately 1,200 songs and an Itchy & Scratchy video to her MyPod. However, she didn't realize that there was a charge of 99 cents for each song, and was later shocked to receive a MyBill for $1,200.
Behind the laughter
MyTunes is a parody of the iTunes service provided by Apple.
Appearances
Community content is available under
CC-BY-SA
unless otherwise noted.