The Nahasapeemapetilon (Pronounced Na-ha-sa-pee-muh-pet-til-awn)family are one of the many families in Springfield. However, unlike most of the families in Springfield, with the exception of The Nahasapeemapetilon Octuplets, Apu and the rest of his relatives are native to their homeland, India.
Background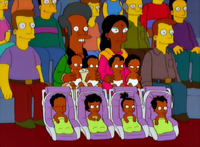 In the series, the most prominent member of the Nahasapeemapetilon family is Apu Nahasapeemapetilon, whose birth family consist of his late father and his mother, whose three children are Sanjay Nahasapeemapetilon (the middle child), their youngest son, and Apu as the oldest of the three. Both Apu and Sanjay would eventually move to America.
In Springfield, the Nahasapeemapetilon family consist of two immediate families. The first is Apu's family, who consist of himself, his wife through arranged marriage Manjula, and their eight octuplets. The second is Sanjay's family, which consist of himself, his daughter Pahusacheta, and his son Jamshed.
Family Tree
Family Member Gallery
Apu's Immediate Family
Sanjay's Immediate Family
Extended Family
Community content is available under
CC-BY-SA
unless otherwise noted.