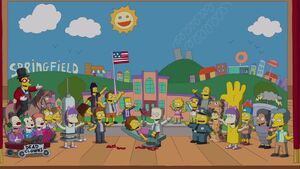 New Springfield Anthem 
is a song from the Simpsons. It was featured in the episode "
Walking Big & Tall
". It is the Springfield town anthem. The song was composed by Asa Taccone with lyrics by Michael Price.
Lyrics
Bart: Springfield's the only home that we've got
Lisa: but to be frank, there's not a lot to recommend it.
We've got a big sink hole
Bart: and they shut down the think hole.
Bart/Lisa: Hashtag Springfield pride had never ever trended.
Lisa: But if you think of the things we lack.
Bart: Instead of the stuff we've got.
Bart/Lisa: Why Springfield?
Bart/Lisa/Nelson/Milhouse: Why no~ot?
We've only had a hurricane once.
Milhouse: We haven't had a circus fire in months.
Bart/Lisa/Nelson: Springfield. Why no~ot?
Nelson: Oo-oo-ooh! We're just off the interstate.
Ralph: Aa-aa-aah! The second right off exit eight.
Dolph: You may find our culture lacking.
Karney: We finally outlawed out snake whacking.
All: Sure, our cops are easily bought
and our dentists are all self taught
but, Hooray for Springfield.
Give two cheers.
Small pox free for seven years.
Why Springfield, why not?
Video
Trivia
Community content is available under
CC-BY-SA
unless otherwise noted.