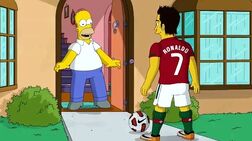 Nike: Write the Future is an advert for the clothing company Nike. Cristiano Ronaldo comes to see Homer at 742 Evergreen Terrace and he nutmegs Homer. It aired in May 2010.
Ronaldo kicks the ball at Homer when he says "Ronal," which is followed up by Homer saying "D'oh!"
Behind the Laughter
There is only a Simpsons related theme for about 5 seconds of the advert and the rest is real life footage.[1]