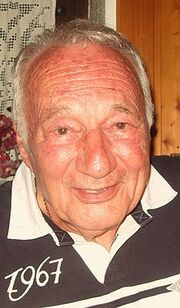 Norbert Gastell was a German actor and voice actor who provided the German voice of Homer Simpson.
Biography
Emilio Norberto Gastell was born in Buenos Aires in 1929 as the son of German journalist Otto Gastell and his wife, who had migrated to Argentina in 1925. The family returned to Munich in 1938 for health reasons, where Norbert later worked for newspapers. In 1950, he had his first theatre job in Tübingen.
Since 1956, Gastell has worked as a voice actor, providing the German dub voice for actors such as Telly Savalas, Ned Beatty, Nicholas Colasanto, and Hector Elizondo. When the dubbing work on The Simpsons began in 1991, he was cast as Homer, and has voiced the character ever since. He adapted the characters trademark expression "D'oh" into the German "Neinn!" ("No!"), which is now almost as iconic in Germany as the "D'oh" is in the English-speaking world.
Gastell has two daughter from his first marriage. Since 1989, he lives in Munich with his second wife, fellow actress Karin Heym.
Gastell died on the 26 November, 2015 in Munich, aged 86.
Characters
Image Gallery
External links
Community content is available under
CC-BY-SA
unless otherwise noted.