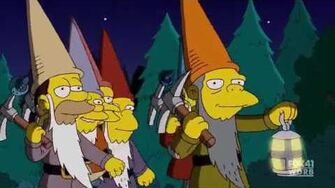 Off to Work is a song sung by the seven dwarfs in "Four Great Women and a Manicure." The music was written by Alf Clausen and the lyrics by Valentina L. Garza. It is a parody of the song "Heigh-Ho" from the 1937 animated Disney film Snow White and the Seven Dwarfs. It was reprised as Time to Say Goodbye.
Lyrics
Kearney!
Lisa:
And Doc...tor Hibbert.
(Doc...tor Hibbert laughs inappropriately.)
Ho hi!
The Dwarfs:
Ho hi, ho hi,
It's off to work, ho hi,
This song's not like any song you know.
Ho hi, ho hi ho hi ho hi.
Community content is available under
CC-BY-SA
unless otherwise noted.