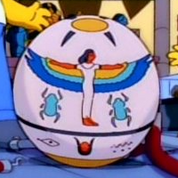 Orb of Isis is an ancient Egyptian relic that was seen in the "Treasures of Isis" exhibit at the Springsonian Museum.
History
Lisa was planning to see the exhibit, but Marge who promised to take her to the museum, had to leave to the hospital because of Bart's joke. Lisa took the bus with permission, but then found out it was the wrong one.
At night, Homer and Lisa broke into the museum to see the exhibit. Homer wanted to touch the Orb of Isis, but whilst crossing a velvet rope, he accidentally knocked the pole holing the rope. They fell in a domino style and eventually knocked the pedestal holding the Orb. It fell and make a loud crack when it hit the ground. The Orb opened itself and it turned out that it is actually a music box. Homer and Lisa were listing to the music for a while. Lisa said that they are "the first people to hear its song in more than 4,000 years". They then closed the Orb and left the exhibition, only to trigger an alarm.
Appearances
Community content is available under
CC-BY-SA
unless otherwise noted.