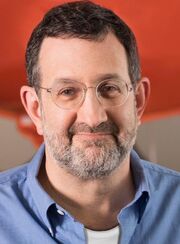 Paul Germain (born in Los Angeles, California 6 June 1959) is an American animation screenwriter and producer. Among the shows Germain has written and/or produced for are Rugrats, The Simpsons, Lloyd in Space and Beethoven: The Animated Series. Germain was one of the creators of, and the primary creative force behind, the award-winning Rugrats. With his Rugrats colleague Joe Ansolabehere, he is the creator of Recess and Lloyd in Space.
Among his film credits are Say Anything, Big and Broadcast News.
Germain's eldest son Tom was the inspiration for the Rugrats character Tommy Pickles. Mikey, a character in Recess, shares his youngest son's name. His wife's childhood photos were the model for Gretchen Grundler, also from Recess. His daughter, Helen Rose, was the inspiration for Lloyd's younger sister.
Paul youngest brother is Marc "Mr K" Germain, a popular talk-show host in Los Angeles, CA and formerly known as Mr. KABC and before that as "Mr. KFI".
Credits
Co-Producer
External Links
Community content is available under
CC-BY-SA
unless otherwise noted.