This article is about the Paul McCartney character. For the real-life musician and guest voice actor, please see Paul McCartney.
Paul McCartney is a famous British rock musician and member of The Beatles and Wings. He and his wife Linda hang out on Apu Nahasapeemapetilon's secret roof garden, which he shows Lisa after she has issues about becoming a vegetarian[1]. Paul and Linda first met Apu during the Maharishi days, though Paul reacts to Apu's claim that he was "known as the Fifth Beatle" with sarcasm.[1] He notes to Lisa how he and Linda "feel strongly about animal right" and how "if you Maybe I'm Amazed backwards, you'll here a recipe for a really ripping Lentil Soup."[1]
Paul later appears leaving a laundromat.[2]
Non-Canon
Paul McCartney's tombstone can be seen in Springfield Cemetery (Shorts) in "Treehouse of Horror", a reference to the Paul is dead rumors.
In "Treehouse of Horror X", in the final segment "Life's a Glitch, then you die", he is boarding the rocket ship to Mars.
Appearances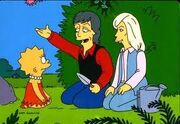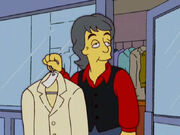 Citations