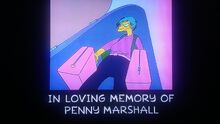 Penny Marshall (October 15, 1943 – December 17, 2018) was an American actress, director and producer. She played "The Notorious Babysitter Bandit" Lucille Botzcowski AKA Miss. Botz in "Some Enchanted Evening". Marshall was best known for starring as Laverne DeFazio in the sitcom Laverne & Shirley and as the director films such as Big, which was also produced by Gracie Films. Her brother Gary Marshall appeared as Larry Kidkill in "Eight Misbehavin'" and in "Homer the Father". She was the first guest star to appear on The Simpsons in production order.
She died on December 18, 2018 from complications of diabetes. [1]
Appearances
External links
Cite error: <ref> tags exist, but no <references/> tag was found
Community content is available under
CC-BY-SA
unless otherwise noted.