Phineas Q. Butterfat's 5600 Flavors Ice Cream Parlor or Phineas Q. Butterfat's Ice Cream Parlor is an ice cream parlor in Springfield. There are several in Springfield, one of which is located inside the Springfield Mall. Their mascot was an ice cream cone with blue swirls at the top, making it resemble Marge Simpson. Because of this, Maggie, when deeply missing Marge because of her departure for a spa to relieve stress after a particularly terrible day, snuck out of the Simpson House and crawled all the way over to the parlor's mascot and slept near it, thinking it was her mother, until the police (who had arrived thinking that Maggie was going to commit suicide by jumping off the building) brought her back to Simpson custody.[2]
When Homer ordered the biggest ice cream sundae they make, "The Ark",[3] he got so overexcited that he fainted and his limp head fell into the sundae. Bart immediately concluded that he was just gorging, but Homer's head was still in it. When they pulled Homer's head from the sundae he had a clown face thanks to a banana, a cherry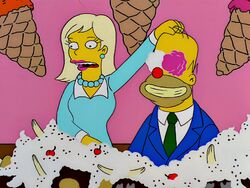 and two flavors of ice cream. The ice cream was probably vanilla and strawberry.
The parlor also had a contest where, if a customer managed to buy their 1,000,000th Ice Cream Cone, they will hold a special interview with Kent Brockman on Smartline, which Homer did (although Brockman was not too happy about that arrangement as he was forced to cancel a debate regarding the Iraq War to make room for Homer, as the parlor acted as one of the show's sponsors). Infamously, this also led to Homer accidentally scalding Kent Brockman, leaving him infuriated enough to utter one of the worst swears in the English language on live television, which eventually led to his firing.
Behind the Laughter
Q. Butterfat's now appears in the new opening sequence. It can be seen in the lower right hand corner before the billboard and the Elementary School. The Top of the Building features a Head that resembles Marge.
Appearances
Citations
Community content is available under
CC-BY-SA
unless otherwise noted.