Notes
Legs, a member of the Legitimate Businessmans' Social Club can be seen in the Jury Duty seats in the court scene.
Maggie Roswell returns to the show permanently starting with this episode.
Homer says he thought god only helped professional athletes and Grammy winners Homer is a Grammy winner In Homer's Barbershop Quartet The Be Sharps won a Grammy for "Outstanding Soul, Spoken Word, or Barbershop Album of the Year"
Cultural Reference
The arena, Springfield Square Garden, is a parody of (and reference to) Madison Square Garden, home of the WNBA's New York Liberty, the NHL's New York Rangers, and the NBA's New York Knicks.
Goofs
While at the WNBA game when choosing the contestant for the shot, Homer stands up and no one is in the seat to his left. Then when Flanders makes the shot, there is a spectator sitting next to him.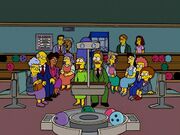 After Lisa Leslie stops dribbling to talk to Bart about his grammar, she wouldn't be allowed to start dribbling again, as this would be a Double-dribbling Violation.
Before Homer prayed for the remote to be found, it is not under the couch until after he prays.
When Ms. Albright is seen at the bowling alley, her dress is light blue rather than the usual lavender.
God would never listen to someone to lead something, like a pie, or some dangerous acid into someone's face. It could have been gravity or force who did that.
Community content is available under
CC-BY-SA
unless otherwise noted.