Wiki Targeted (Entertainment)
Play Sound
Princess Kashmir (real name Shauna Tifton) is an exotic dancer.
History
Princess Kashmir (who is the love interest of Homer Simpson and rival of Marge Bouvier) is first seen during Eugene Fisk's bachelor party. It is here that Homer gets his picture taken by Bart with his spy camera. The photo had far more effect on Homer than it did on Tifton.
She is moved by Homer's speech to all the men in the audience about not treating women as objects, but she remains an exotic dancer to this day.
She has been known to work at "Florence of Arabia", "Girlesque", "Foxy Boxing", "Mud City", "Sapphire Lounge" and as a fan dancer at "La Maison Derrière", where Homer payed more attention to her rather than to a conversation between him and Belle.
She is seen with many men throughout the series, including Apu before his marriage to Manjula. However, Apu was not much of a sexual performer due to him being preoccupied with his business. When Apu went to work and saw Homer loafing, he angrily demanded Homer get to work, but Tifton looked with shock as Homer collapsed from exhaustion and got his head stuck in the automatic door. Tifton is also a member of the Home Wreckers bowling team along with Mindy Simmons, Lurleen Lumpkin and Jacques.
She is also somewhat of a celebrity in Springfield, appearing regularly on Springfield Squares. She also was one of the celebrities who sang with Sting, the song "We're Sending Our Love Down the Well".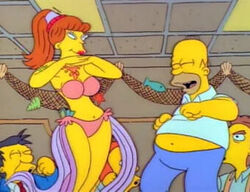 Trivia
She said to Homer in "Homer's Night Out" that her pet peeve is rude people, but (ironically) in "Secrets of a Successful Marriage" she paid attention to Homer's "lessons" and eavesdropped on their dinner with Moe, Barney, Otto, and so on.
In Bart Gets an "F", she is seen with blonde hair.
Originally, she was supposed to be a stripper who dressed like a belly dancer, but the FOX censors wouldn't allow it.
Gallery
Appearances