Doctor Strange in The Multiverse o Madness - The Loop
Play Sound
"Since I'm sure you'd only resent the pity of an eight-year-old niece, I'll simply hope that you're one of the statistically insignificant number of forty-year-old single women who ever find their fair prince."
Principal Charming is the fourteenth episode of Season 2.
Synopsis
Lonely Principal Skinner through a failure to communicate falls for the wrong sister, Patty, making Selma very envious of her sister's new found love.
Full Story
Patty and Selma attend the wedding of a man that could have easily been Selma's husband, had Patty not gotten in the way. Selma realizes that she needs to find a husband and begs Marge to help her. Marge enlists the help of Homer to seek one out. However, Homer fails to find anyone suitable.
Meanwhile, Bart pulls a big prank by pouring the fictional chemical sodium tetra-sulfate onto the grass. Since Bart used it to spell his name, Principal Skinner easily catches him. In the principal's office, Bart is told to call Homer, who is currently at Moe's Tavern. After asking for "Homer Sexual", Principal Skinner takes the receiver as Moe verbally assaults who he believes is his long-time tormentor. Skinner, with thinly veiled anger at the threat as well as Bart's earlier vandalism, demands for Moe to repeat what he just threatened to do, and when Moe asks who it is in shock, Skinner screams that the real question was who Moe is and where Homer Simpson is. Moe gives Homer the phone when he realizes it is Principal Skinner on the other end of the line. Homer goes to the school and proclaims that Skinner is the perfect man for Selma. He invites the principal to meet her, but he falls for Patty instead due to Homer mistaking Patty for Selma.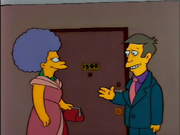 Skinner asks an unwilling Patty out on a date and she tries to get out of it by refusing. However, as they were going home, Selma tells Patty to go on this date because she has not been with a man in 25 years and this would be her best chance to still have a family.
On their first date, Patty does not seem impressed with Skinner until he yells at his former student for his lack of promptness. When they get back to her apartment, Skinner tries to kiss Patty but she slaps him in response. However, her anger soon gives way to pity and she agrees to another date. As time passes, Patty begins to warm to Skinner and they go out on more dates, much to Selma's chagrin and she realizes another decent man has just slipped past her.
Skinner enlists Bart's help to get Patty to marry him, and Bart takes advantage of the opportunity to get out of his punishment of reseeding Groundskeeper Willie's grass field and soon takes control of the school. Meanwhile Homer fixes a date between Selma and Barney. When Marge learns of it, she disapproves of Barney and demands that Homer finds someone else suitable to date Selma. Homer tries to convince a skeptical Marge that Barney can sober up and be romantic to Selma. When Bart tells Selma of Skinner's marriage proposal to Patty, Selma realizes she can't be picky and accepts the date much to Marge's chagrin.
Skinner takes Patty to the top of the bell tower to propose. Following Bart's lead, he has written "Marry Me, Patty" in 40-foot letters using the sodium tetra-sulfate that got Bart in trouble. Patty, though obviously very flattered and touched by Skinner's proposal, ultimately declines it--she explains to Skinner that while she really does love him, her love and loyalty towards Selma is ultimately more important to her. Skinner, though obviously saddened by this, respects Patty's decision. When they're saying their goodbyes, Patty tells Skinner that if she ever were to settle down with someone, she'd want it to be with someone like him. After Patty leaves, she goes to rescue Selma from her date with Barney and takes her home after informing her of what happened.
In his grief, Principal Skinner sees what has happened to the school, and takes back control by putting Bart back on his punishment. Matters then return to normal as a gleeful Groundskeeper Willie takes pleasure of Bart's misery as he replants the field seed by seed.
Transcript
Citations
Production
This was Groundskeeper Willie's first appearance and Dan Castellaneta, who was assigned to voice him, didn't know which voice to use. Sam Simon suggested he use an accent and after going through a Spanish and "big dumb Swede" voice, they settled on a Scottish accent.
Josh Weinstein revealed in a tweet that Hans Moleman was originally known as "Kindly Old Gent" in the planning stages.
Reception
"Principal Charming" holds a rating of 7.5 on IMDb. Nathan Rabin of AV Club says "This stellar episode ends on an appropriately bittersweet note: "Principal Charming" does justice to both the tragic and comic side of these tragicomic and brilliantly conceived supporting players." The episode also holds an A- rating on AV Club.